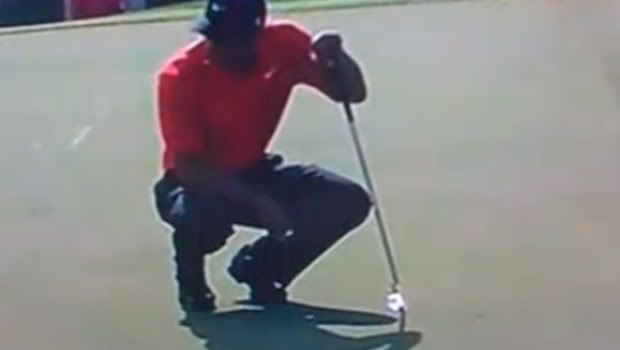 Okay, so it wasn't the "Golden Shower" he discussed with porn stars, but was it "spitto, spittere" or "hactui splatum?" The old Latin I joke came true for a still embattled and controversy embroiled Tiger Woods as many in the golf World are horrified by his breach of golf etiquette, basic manners, and hygiene.
With what looks like a substantial mucus-filled loogie, Tiger Woods expectorated all over the 12th green during his final round meltdown in Dubai's Ali Baba Classic at Disney-on-the-Red-Sea Country Club, causing one U.K. announcer top condemn the act claiming other players might have to play through it.

"There are some parts of him that are just arrogant and petulant. Somebody now has to come behind him and maybe putt over his spit," said Sky Sports commentator Ewen Murray. "It does not get much lower than that."
Jay React: Thank you, Brits. Gald someone has some stones when it comes to Woods…anyway…
Tournament director Mike Stewart reviewed the incident and said "there has been a breach" of conduct. Murray was not so diplomatic on the air – he called the phlegm discharge "disgusting."
Woods later apologized. "The Euro Tour is right – it was inconsiderate to spit like that and I know better," Woods said on Twitter. "Just wasn't thinking and want to say I'm sorry."
CBS Sports and Jay Busbee at Yahoo have competing opinions on the severity of the issue, but I have a different burning question:
Isn't this a tempest in a teapot compared to the alleged home invasion of Elin's house a few weeks ago? Where is the outcry over his continued scorn and disdain for women? Where is the call for transparency and explanation over a far more serious social problem than spitting on the course?
Until we get some real answers as to the dark and sinister goal Woods had in mind allegedly creeping into Elin's bedroom and reading her personal papers and diaries, spitting should take a back seat. The Tour's conduct policy reads:
The tour's code of conduct states that when a player becomes a member he "voluntarily submits himself to standards of behavior and ethical conduct beyond those required of ordinary golfers and members of the public."
So the Euro Tour has said spitting is not up to the standard required of a pro golfer…what do they and Finchem have to say about general lawlessness with a cornucopia of slithery harpy prostitutes?
***Cricket! Cricket! Cricket!!***
Timid Finchem, call your office…