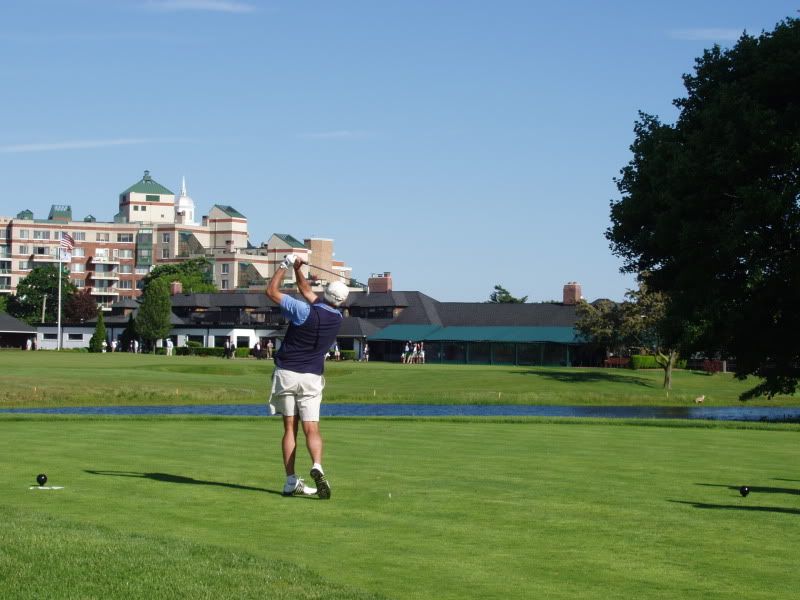 — Within the city's bustle lies
A gleaming jewel in glad sunrise
Our emerald 'neath the blissful skies!
Our Green and Gothic Home! –-
From Our Green and Gothic Home – a poem to commemorate the Travis turning 100 years old.
GARDEN CITY, NY – You can't help but fall instantly and forever in love with Garden City Golf Club because broad smiles and irrepressible good cheer radiate from every face each time you are there. A soothing, restorative elixir to combat the stress and bustle of New York, the true magic of Garden City lies both in its ability to transport the golfer back in time 100 years, and in the ineffable joy of the members, stewards of some of golf's most storied traditions.
Arriving at the club for any event is like escaping the real world for a while, leaving your cares aside, and basking in the club's Old World charm, grace, and courtesy. But for one week in May, Garden City outdoes itself with a celebration of golf history, tradition, and competition which is unparalleled in all of golf – the Walter J. Travis Invitational, which turns 101 years young this year – the greatest amateur golf tournament in America, save the U.S.G.A. Amateur Championship.
"It's Christmas Day for amateur golfers," gushed an ebullient Pat Mucci, and it is. Stately, charming, and dignified, the Travis is to amateurs what the Masters is to pros: a revival and a reunion. Each year, the greatest amateur golfers in America gather – as they have for over a century – to compete for the replica Schenectady Putter made famous by club icon Walter Travis, the great amateur champion and golf course architect, but also to promote the noble virtues golf teaches: camaraderie and altruism.
The tournament is a rugged test of a contestant's skill at both match and medal play over the three days of competition.
"Friday is a single qualifying day where the top 72 players out of the field of over 120 will advance to the match play rounds conducted over the weekend," explains tournament chairman Pat Fogerty, who is also a contestant. The match play portion has five competition flights: a championship flight of the top sixteen players after Friday's medal play, a second flight of the next sixteen players, and then three more flights of eight players each. Additionally, sixteen more players will qualify for the "senior legends flight."
"One of the nice things about the tournament is that, with 72 qualifiers, a player has a good chance to advance to weekend play," Fogarty added.
They need that many flights, as the quality of player the tournament attracts is staggering; well-decorated state amateur champions can lock horns with former U.S.G.A. championship winners in any bracket, one through five. One year Jeff Thomas, a seven time New Jersey state amateur champion, met Jerry Corville, a U.S. Mid-Amateur champion, in the fifth flight.
"The field is so strong that the difference in ability between a top seed and a bottom seed in any flight can be negligible," Garden City golf pro emeritus Gil McNally explained during last year's event. "Moreover, the stroke play portion of the competition is only one round, where anything can and will happen."
But while the field can be jumbled by the casual slings and arrows of the capricious bounces of a single round, the match play portion is an equalizer, giving the more skilled player a chance to overcome a high seeding and work through the brackets.
"In a tournament like this, being the top seed is not anywhere near as much of an advantage as it is in other sports like basketball," McNally stated with a knowing smile. 2009 alone saw a startling bloodletting at the top of almost every bracket as five number one seeds out of the six flights were eliminated in the first round of match play.
David Reneker, Bel-Air Country Club's well-decorated amateur competitor, can attest to that first-hand. He set the competitive course record last year with a sparkling 6-under 67, (par is 73), carding a blistering nine birdies. The course rang with the cheering.
Then he bowed out to the 16th seed in the first round of the match play.
The affable Reneker, best known for his rapier wit and self-effacing humor actually had a good-natured laugh about the early exit. After losing, he sat down for lunch and to read your author's tournament write up of his stunning feat the previous day. After silently reading the first few paragraphs, a glowing review of his epic round, he then read aloud from the piece:
"'Now Reneker enters into the weekend's match play, which has been a graveyard for number one seeds not named David Eger. In the last two years medalists Alan Specht and Garden City member Mike Confort lost to the 16th seed'…thanks, Jay!" he quipped dryly.
The table erupted in laughter.
Still, Reneker the unsinkable, and wildly popular 6'6", red-haired lion returns for another try.
"It's one of the coolest experiences in not just in golf, but in life," he states energetically. "I don't care what I shoot. The way the members make you feel like a member for the whole week, opening the course and their hearts to us is unparalleled. We get to practice and dine and hang out with them and enjoy the ultimate ethos of golf. Yes, the course, the history, and the traditions are fantastic, but I cherish the friendships I've made there the most."
Then Reneker became Good Ol' Reneker again – the best quote in the field. When asked what he'd worked on to improve on his performance last year, he replied with his trademark humor.
"I'm gonna try not to be the number one seed!"
Everyone laughed so hard it took a few moments to settle down.
"Seriously though," he continued, "you have to be good at both stroke play and match play. I putted poorly in my match play match last year and I short-sided myself a few times, and that will kill you with a field this good. You don't get beaten up out here – there are birdies to be had – but you can bleed to death from little cuts. It's not like Oakmont, where you feel like you must keep both hands on the steering wheel or you careen off the tracks, but there are plenty of hard holes where you must manage your game carefully. It's a smart golf course."
He raises a great point not only about the Travis, but about tournament play in general: You aren't going to play great all day – you just have to play well in the clutch. And the fiendishly clever intricacies of Garden City will make those clutch moments that more dramatic.
It's those smart subtleties that make Garden City as relevant today as it was 100 years ago. A careful, faithful restoration by world-conquering golf architect Tom Doak brought all its fascinating features of great strategic golf course architecture into sharp relief.
"The characteristic Garden City green is very simplistic at first glance – basically just a ground-level extension of the fairway as on many Scottish courses, but most of Garden City's greens tilt slightly to the back as well as to one side," explains Doak. "This combination of speed and tilt has ensured that it remains difficult to get the ball close to the hole on an approach shot, even though modern golfers are approaching these greens with much more lofted clubs than the architect must have envisioned."
Indeed the difficulty of the approaches has held up well. The short par-4 10th still befuddles players with its severe roll away from the player. The massive par-4 15th features a dramatic tilt left to right, confounding even the best iron players, and striking fear into a golfer 1-down in a crucial match who must equal or better his opponent's approach that finished on the putting surface.
Still, Garden City has other, more terrifying defenses: the long thick rough and the steep, penal bunkers, bunkers deepened and toughened by Travis himself after his triumphant return home to the club after his epic 1904 British Amateur victory. Travis went running around with a shovel and a purpose: make the golfer play an excellent recovery or pay the price for getting in the bunker in the first place. It is a hazard after all…
He succeeded too well and, ironically, became the course's most famous victim. Locked in a fiercely contested U.S. Amateur semi-final against eventual winner J.D. Travers, he left three attempts in the left front bunker at the home hole, and conceded that match, ending his bid to win a major championship at home.
"Of all the great U.K. links, Garden City is perhaps closest to Muirfield," offers golf course architecture uber-expert Ran Morrissett, also one of the founders of the newly opened Cabot Links in Nova Scotia, an instant classic which looks to take the golf world by storm.
"It's not only an authentic links, but like Muirfield and St. Andrews the bunkers are random, deep, and all shapes and sizes," continues the genius who also gave us GolfClubAtlas.com, the best golf architecture website in existence. "Some are tiny pits where you, your club, and your ball aren't always going to peacefully co-exist, and some are cross-hazards. As they often sit below fairway grade, they don't jump out at you, and that challenges better players by playing on the golfer's fear of the unknown."
Then Morrissett does what he does best: he pulls the discussion back to macro and gives us a view of the forest as well as the trees.
"Garden City stands in stark contrast to the direction which modern architecture went, and that's good because they promote "lay of the land" architecture and avoid artificiality. Garden City is eminently natural and plays right into the great natural features of the site, rather than avoiding them or erasing them," he observes sagely. "You really feel the land. A golf course should reflect its natural surrounds, and Garden City does."
That's why it's endured as one of the golf world's most ancient splendors ever since it opened in 1899.
"The club exudes golf in its purest form," Mucci confirms concisely.
Then again, that's what Garden City and the Travis Invitational are all about: The Grand Old Club, The Grand Old Man, The Grand Old Amateur still stands, so raise your voice and clap your hands, it's what their legacy commands. For this week, we celebrate a golf course not because of what it cost to build, but because of its value to the game. For this week, we don't judge golf by waterfalls, stained glass windows, magic gates, celebrity members, or television exposure. Instead, we take a walk back in time to the days of old, a living golf time capsule perhaps more relevant and poignant today than ever it was.
PLAYERS TO WATCH
"Big Ben" Hayes – after a dominating performance in the match play, where he softened up his opponents with his gargantuan length off the tee, then suffocated them with his precision irons, the defending champion and loyal USC Trojan has a solid chance to become the first back-to-back champion since David Eger in 2003. Interestingly his best challenge may come from…
Brad Shaw – Hayes's college roommate and varsity golf teammate, the pair are nearly inseparable, even sitting for all their media center interviews together, playing off each other like Alan Trammel and Lou Whitaker. Shaw lost to Hayes in the semi-finals, coming back from 4-down early only to bow late 2&1.
Chris Lange – The 2009 champion, a steady grinder who can ignite a birdie binge at any time, outlasted the field in a grueling weekend that saw him take three matches to 18 holes or more.
Mike Kelley – 5'5" in spikes but 6'9" in heart, the diminutive 2008 champion was a giant killer, felling steely-nerved, iron-willed Kevin Hammer in an mesmerizing semi-final, then besting well-decorated amateur champion Joe Saladino in the final. Shed no tears for Saladino though: he got engaged the night before the final.
"I wanted 'a win, a win, and a yes,' but two out of three ain't bad," Saladino said famously in his touching speech to the club upon accepting runner-up honors.
Eoin O'Connor – No, not that Eoghan O'Connell…Eoin O'Connor, (no relation). Often mistaken for the 2006 champion and fellow Irishman, the younger, shorter, slimmer Eoin O'Connell from Ballybunion is a match play surgeon who can go deep in the tournament.
[
Author's Note: I can hear it now…"Slimmer??!!" Eoghan will shout, (while Kevin Hammer laughs uproariously in the background). I guess I owe him a bottle of Red Breast Irish whiskey for that one
.]
Sadly, we'll miss Hammer and Eoghan – and Alan Fadel for that matter – as they play in the International Championship of Country Clubs in China, but a bumper crop of new talent will step in admirably. Names to watch include Floridians Nick Gilliam and Steve Carter, as well as John Marsico. Still, the Travis can be unpredictable.
"Any one of 50 guys could win this tournament. The champion will have to be able to play the course in all kinds of conditions, will have to be patient, yet confident, and master both stroke play and match play," says Fogerty.