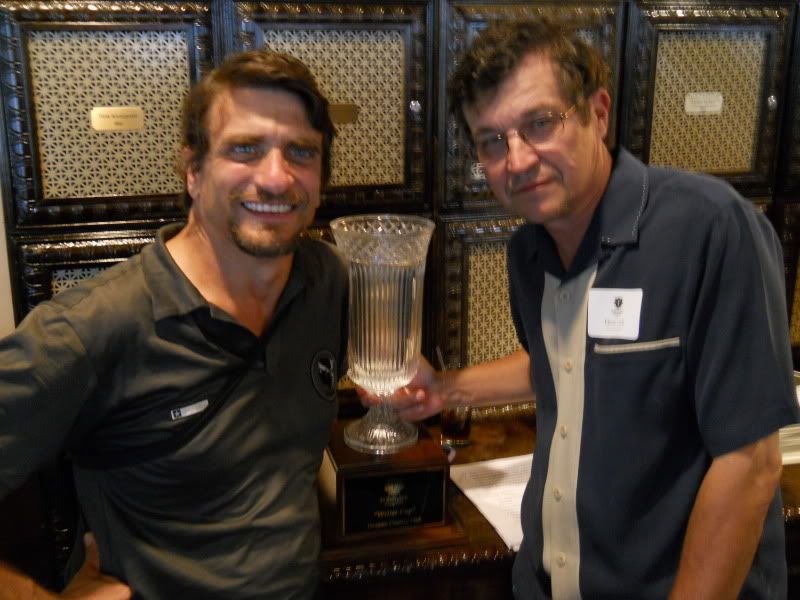 Gola, Smith, Berger, Flemma Lead NYC Golf Writers to 1st Writer Cup Victory at Forsgate
By Rodney Zilla, special to Cybergolf and AWITP
MONROE TOWNSHIP, NJ – Doug Smith fired a gutsy 75, Dan Berger smoothly powered to a net 70, and co-captains Hank Gola and Jay Flemma also scored for the NY-National golf writing team as they finally defeated their hated arch rivals from Philadelphia-New Jersey in the 5th annual Writer Cup at Forsgate Country Club.
"And the Rangers still suck!" bellowed Gola, many times an award-winning sports writer for the New York Daily News and a devoted Devils fan. He then lifted the Waterford crystal trophy skyward as his team rallied around him in delight.
"I contributed? Wow. I really didn't think I played that well," admitted the humble Smith, who took home medalist honors for low round of the day. "I'm more thrilled we finally won."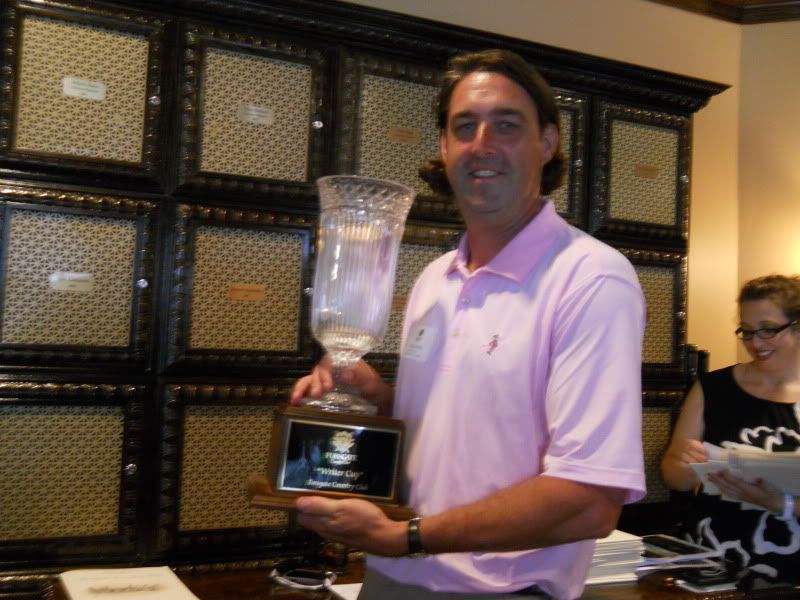 "Dan played great today too," added one elated New York teammate, referring to Berger's 1-under 70, the low net score on the day. "This is a wonderful, but tough golf course, and a 1-under score off those pro tees was remarkable when everyone else was struggling so much. You have to think so much around Forsgate, and it's really tough to play to your handicap on the Banks Course. Dan managed his game beautifully."
It was a long time coming for New York. In the prior four years of the event, they were trounced mercilessly four times.
"I was really tired of seeing those guys doused in victory champagne and lighting up victory cigar after victory cigar," explained Flemma, who drove the ball dismally, but had the magic of Houdini around the greens on his way to a net 77, good enough for 10th place.
"I got into all the trouble you're supposed to avoid at all costs, but my wedges and putter bailed me out," confided a grateful Flemma, who had played horrendously in prior years. "Today I got up and down from Pine Valley, Merion, and Aronimink it seemed."
Not quite, but pretty close. Flemma made two ridiculous sand saves – one out of the left bunker on eight, when he was at least twenty feet below the level of the green, and the second at 15 after putting a 60 yard bunker shot not only on the shallow upper tier of a plateaued green, but to within a foot of the cup. He also drained a hard-bending 25-foot putt from the upper tier to the lower tier at the 2nd green, and he made every single putt under seven feet that he faced on the day.
"That's a testament to how wonderfully those greens are running. The course superintendent and his team have that course in pristine condition. The pros will love it for the Battle of the Sexes Forsgate is hosting in October." Flemma also won his challenge match, holding on late for a 2&0 win over Jamie Gacos after building a 4-up lead midway through the round.
Meanwhile Hank Gola's golf game is enjoying high summer. His 82, (net 74) was an excellent round, moreso because he was forced to play from the pro tees. Earlier this summer, Gola shot a sparkling 81 at Olympic Club the day after the U.S. Open.
Sports writers Barry Solomon, Ralph Wimbish, Gideon Cohen, Adam Balkin, Drew Greenland, Nick Nicholas, and James Krajicek also scored for New York.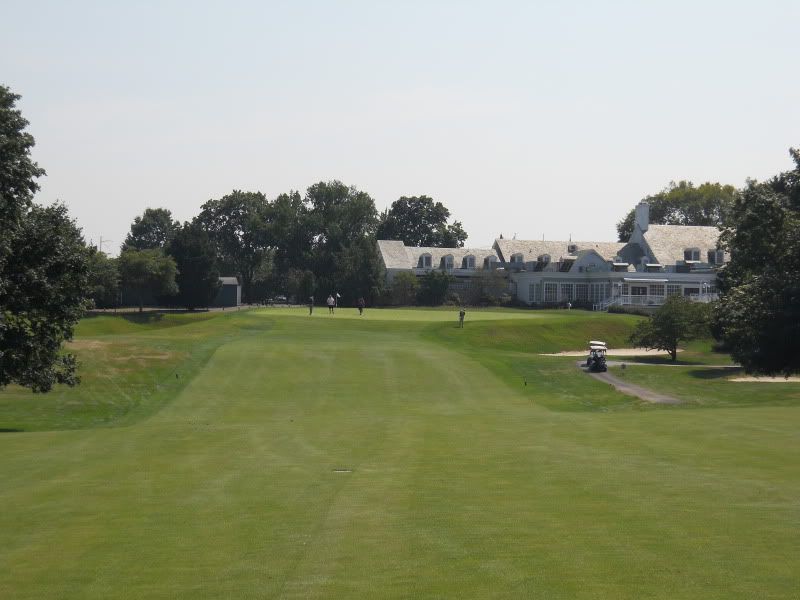 "What a great event! Steak and lobster for dinner and we finally won," gushed blogger Stacy Solomon of the victorious New York-National side, but the real steak and lobster dinner is the marvelous Banks Course, the flagship layout at storied Forsgate. Built in 1930, it is the last course in the magnificent Macdonald-Raynor-Banks bloodline. Template holes such as the Eden, Cape, Double Plateau, and Narrows beguile and confound golfers with their equal parts beauty and difficulty. Add in the museum piece Biarritz at 17 – a crown jewel of American golf architecture, but a murderously long and difficult par-3 – and it's a fistfight saving shots all day. The 17th can stretch to a brutish 272 yards if needed.
"It's a tough par-4," joked PGA Tour pro Brad Faxon last year.
Nevertheless, any hole on the Banks Course can ruin a round if you're not careful.
"That's the hardest 6,400 yard course I've ever played," said one exhausted New Jersey player. "It's a par 71, so it plays like 6,650, which is long for a bogey golfer."
Indeed, New York won the battle, but the Banks Course won the war. Smith's 4-over 71 was the low round of the day and most players struggled to play to their handicaps over the multi-tiered greens and deep sod-faced bunkers of the Banks Course.
"It's tough, but it's fantastic," explained architecture expert Jon Kulok. "Stephen Kay did a miraculous job bringing it back to its 1930 specs and it's better than it ever was. That match between Paula Creamer and Gary McCord should be a ton of fun."