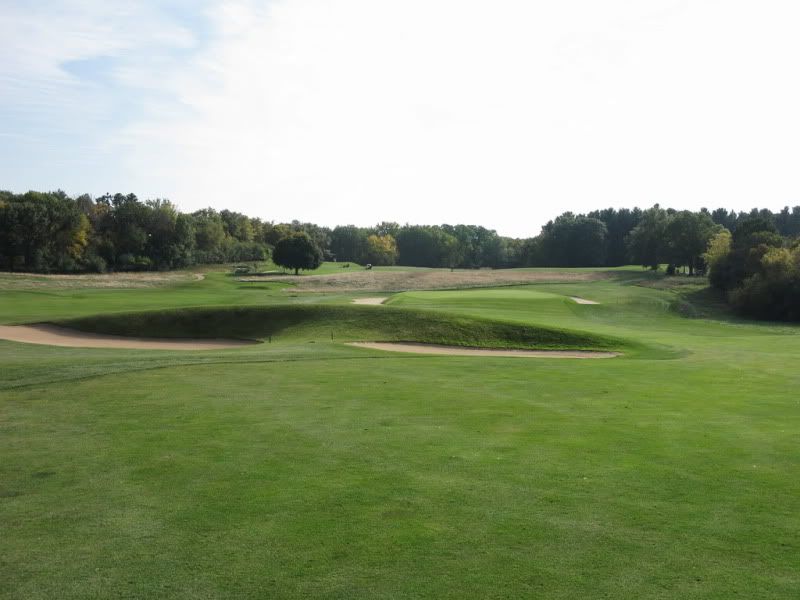 Thankfully, the Links Course survived its early, troubled history largely intact. I say thankfully because, the design of the course closely resembles the work of perhaps the most revered and important bloodline in golf architecture: C.B. Macdonald, Seth Raynor, and Charles Banks.
Several startling coincidences lead many golf architects and architecture experts to believe that Langford and Moreau either knew Charles Banks and Seth Raynor or at least studied their work at such courses at Yale, Sleepy Hollow, and National Golf Links of America, Chicago Golf Club, and/or Shoreacres.
First, Langford studied at both Yale and Columbia, so he surely had the chance to play both Yale and National either as a student or later as an alumnus. Second, both he an Raynor were civil engineers, so not only might they see the same design concepts through a similar lens of training and habit, Langford could also faithfully and skillfully reproduce it. Next, Banks was also a Yale Eli and his time in New Haven purportedly overlapped with Langford's. Finally, Raynor settled in Chicago in 1922 during his reworking of Chicago Golf Club, while Langford and Moreau formed their partnership in Chicago in 1918. These proximities in location and time coupled with the similar shaping styles and green and bunker complexes lead many students of golf design to believe some connection existed.
"Though we've not yet uncovered any concrete evidence of the two groups ever meeting, the question of why Langford and Moreau's work so closely resembles the work of the MacRaynor/Banks heritage is one of golf's great $64,000.00 questions," explains golf architecture expert Phil McDade. "When such a renowned architect like Pete Dye, who knows his history and is as well-versed in Macdonald, Raynor, and Banks as anyone, can play the front nine at West Bend, a little-known course in Wisconsin, and call up Ron Whitten afterwards to tell him what a great Raynor course he played, and then find out it wasn't a Raynor at all but a Langford and Moreau, it's pretty telling about the similarities."
Dye himself laughs about that story, and offers further insight. "Langford did a lot of work in Chicago for one thing. Also there is a great similarity with Raynor's work in the severity of the slopes around the greens and the shaping. I have no idea if they knew each other, but you can't help but notice it," he explains. "And that little nine holes, you'd think it was Raynor who stopped by west bend! They both use the Redan hole, like at Camargo, [Author's Note: a Raynor design in Cincinnati], and they both use these deep drop-offs around the greens, and the internal contours like the thumbprints are similar." Then Dye laughs for a moment and adds excitedly, "I'll tell you one thing, if he did see those courses we know he certainly would have liked them!"
His wife Alice, as chipper, plucky, and unquenchable a soul as her husband (and probably the best female golf architect in the history of the sport) affirms her husbands assessment. "We thought his work was so terrific – some of the best architecture we'd ever seen – so we copied one of his greens for the 12th green at Crooked Stick. It's a copy of the 5th at the Maxinkuckee Country Club in Culver, Indiana. Langford also built Culver Academy Golf Club half a mile from Maxinkuckee, and it's the same as the first green there."
Alice then offered a terrific breakdown of Langford's philosophy. "Langford believed par should be protected near the green. Therefore the fairways are generous, but the putting surfaces are perched on shelves with severe drop-offs one or more sides, usually one side, but sometimes on both. Langford's greens are massive and multi-tiered and guarded by steep-faced bunkers."
Golf architect Ron Forse, whose skillful restoration of the course has led it into the 21st Century with resounding applause, echoed Alice's assessment and highlights a milepost that may offer some guidance on the issue of the similarities. "Langford and Moreau didn't use the heavily the heavily plateaued-green idea until about 1920 at Ozaukee CC in Mequon, Wisconsin. Before that, their greens sat pretty low and the bunkers were small, looking more like Donald Ross and other early classic architecture. After that there is definitely a change to a larger elevation and scale of the green complexes and bunkers. The fairway bunker on six at Lawsonia is 35 feet front to back, 150 feet side to side, and up to ten feet deep and it has a steep grass face. Those are an unmistakable characteristic of Lawsonia. Those bunkers give the course some great unique and natural character."
Forse is exactly right: the fairway bunkers offer a rare and wonderful challenge. They are three-dimensional hazards to avoid off the tee, not the 2-D we see in modern architecture, so that head-high line-drive you hit 200 yards, but six feet off the ground will slam into the grassed bunker wall result in a pitch or punch-out. They are also frequently diagonally placed so the golfer must choose his line wisely. Finally, there add they add a refreshingly different depth and texture to the visual palette.
Forse's assignment was to restore the bunkers to their former depth and size, recover greens that had shrunk, and to restore old fairway lines that had been lost to sloppy mowing patterns. He also removed 156 trees from back nine and the sixth hole, which opened up views across great vistas of the course.