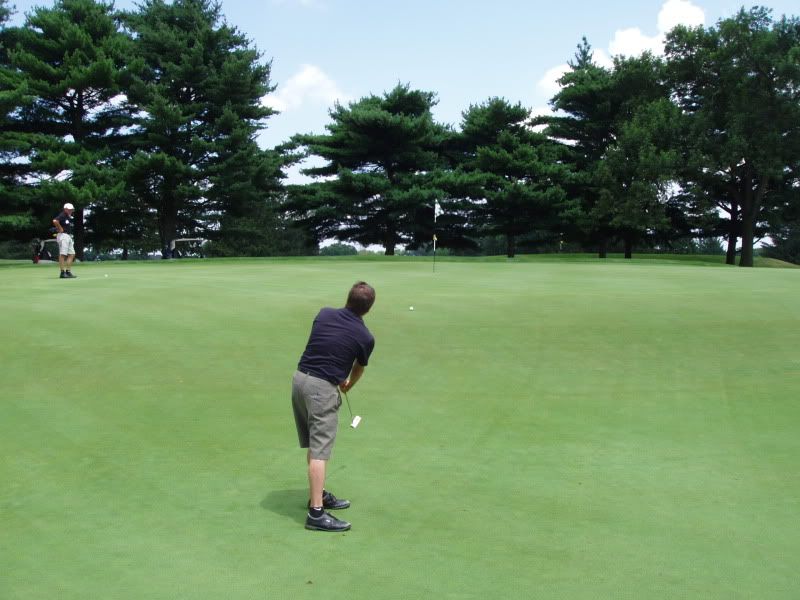 MONROE TOWNSHIP, NJ – With a golf game uglier than an Orlando Perkins waitress, your author led his punchless NYC writers golf team to a fourth consecutive epic fail against the Philadelphia golf writers, who routinely mule kick us back to the Manhattan curbside with a resounding thud during Forsgate Country Club's annual Writer Cup tournament between the cities.
Playing as limply as a cowed and Dr. Galea-less Tiger Woods, we silently and sullenly submitted to yet another massacre, including yours truly's ghastly and grotesque parody of a golf match, a 5&4 drubbing from Philly captain Mike Kern, who graciously accepted the winners' Waterford Crystal trophy with humility and gratitude. He didn't even crow in my face, caper and cavort obscenely, or ride me like Animal Kingdom, a fate I richly deserved after challenging him openly, but then mailing a performance as pungent as baboon dung parfait.
Boy, some captain I am: Four down after four holes, in the mumble tank all day, and playing like a clueless and defenseless rookie in the marquis match of the day. Way to come through in the clutch, Jay. "Play like a golf writer," indeed. Have another nice hot cup of Shut the Hell Up, you donkey.
To my credit, Kern had the advantage of playing in the group behind me, so upon seeing my ball weaving drunkenly across Forsgate's fairways, and me in more fruitless pursuit than Ponce De Leon, all he had to do was manage his game reasonably. I had no idea what he was doing all day, so I had no chance to react to his shots. To Kernsy's credit, he was completely phlegmatic, shrugging and aw-shucksing his way around smoothly, hardly breaking a sweat, managing his game and mood perfectly, then tucking into a well-deserved steak and lobster dinner. To the victor go the spoils.
Though the steak had terrific flavor and the lobster was sublime, the golf course is the real steak and lobster dinner. The last course designed by "The Bloodline" – the greatest lineage of golf course architecture in American history to date – Charles Blair Macdonald, Seth Raynor, and Charles "Steamshovel" Banks, Forsgate is one of the greatest classic courses in America.
As an aside, I think they're going to have to start calling me "Steamshovel" because my divots were so fat yesterday, you'd have thought I was applying for a job working on a golf course earthmoving crew…
Anyway, the Banks course is the last design Steamshovel completed over the course of his illustrious acrer, therefore Forsgate is part of a sterling and noble lineage, one they ceaselessly steward with unwavering devotion and fealty.
As we would say at Deerfield Academy, they are worthy of their heritage. Even laconic old C.B. Macdonald would be hard pressed to find anything to criticize.
All the great template holes are there: a longish, Eden hole with an elevated green, a wonderfully soft-spoken Knoll hole, a reverse Redan so difficult it rivals the great example at Sleepy Hollow, a brilliant Cale green at the roller-coaster par-5 8th hole, a Double Plateau, a Chocolate Drop, and of course, two of the crown jewels in the entire Bloodline nationwide – a brilliant 100 yard Biarritz green with an eight foot swale at the par-3 17th and a perfect thumbprint and horseshoe at the par-3 12th.
My personal favorite stretch begins at the narrow, but fun downhill par-4 fourth hole, and continues straight through the severely canted fairway and dangerously protected green at the par-5 ninth.
Except of course when I get locked in the trunk of my car and my evil twin, "Wrong Way Jay" decides to play in my stead. You know why they call him "Wrong Way Jay?" Because after he hits his shot, you invariably hear him shout, "No!! Wrong way, Jay!"
Nevertheless, even hitting the ball like a diseased yak, there's no possible way not to have a fantastic time at Forsgate. There's everything you need at Forsgate and then some. There's the golf course, in all its dryad loveliness, a vision of the splendor of the classic Golden Age, reminding us of the grace and dignity of decades past, a reverie to which any golfer can gratefully retreat to find solace amidst the traffic of the World. There are terrific people. Much like venerable Garden City Golf Club, everyone at Forsgate puts their ego aside for the greater good of the course. There's Chris Schiavone, (pronounced Sha-VO-knee), who runs the club the way a club should be run, altruistically, and the sentiment filters down to every member. There's Suzy Abrams Jones – smilin' sweet Suzy – who handles course PR with charm and courtesy. There's Todd Edelman, ministering his charges' golf swings like a priest with a penitent. There's "Wayne and Skippy," Forsgate TV's uproariously funny comedy duo. Abbott and Costello ain't got nuthin' on them.
There's a second course. There's world-class food. There's a pool and tennis. There's a steam room and sauna. And there's a selfless membership that knows the club comes first.
In short, if other country clubs were half the club that Forsgate is, then they would be twice the club the World could ever ask them to be. If you're looking for a course to hang your golf cap, and have a place for the family, run, don't walk to Forsgate.
As for the Writer Cup, it's one of the best events of the year. It sure would be nice if I showed up for once.