There should be further updates coming, as the web page is a confused jumble right now.  But in a few minutes, they should have the full story.  In the meantime, Dustin Johnson has been declared the winner.
Congratulations also to Joe Rice, owner of Bulls Bay G.C., (the only private design Mike Strantz ever did), for winning the Pro-Am.  Moreover, he won with Dustin, and they made all South Carolina proud.
So lets celebrate!  Here's a picture of Joe having a great time at the Hootie and the Blowfish NCAA Invitational at Bulls Bay.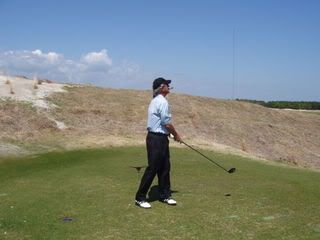 His Team, which also featured former PGA pro and Mike Strantz's design partner Furry Fozler…Forrest Fezler and Hootie guitarist Mark Bryan, won with a scalding 25-under score.
Here, Forrest, Joe, and Mark take bets on whether your author will hit a goofy slice, a dribbler, or a scalded cat. They all lost, I hit the green at the par-3 7th. They yelled on my backswing on the next tee. I hit it in a bush. Why do you think he's "Furry Fozler" now?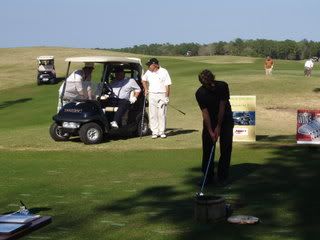 Here's a story of the tournament, complete with cameo from Titleist the Bull, the Bulls Bay mascot.
Here's a review of Bulls Bay Golf Club.
And here's a heck of a picture of the place:
Finally, Titleist the Bull, checking the GPS before playing to the eighth green. "150 yards my rump!"