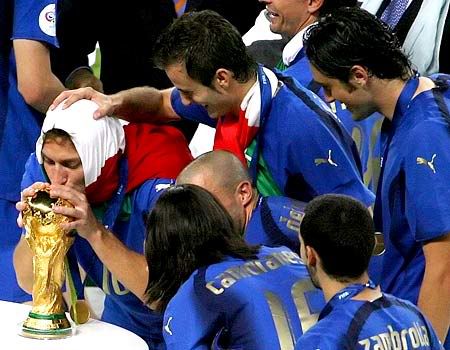 Rising star PR rep Jessica Aufiero, (who, among other projects, is repping the new Kyle Phillps-designed courses in Sicily, a resprt owned by Sir Rocco Forte called "Verdura"), asked me for my thoughts on this year's FIFA World Cup. After the success I had picking Italy to win in 2006, and after turning the World on to Ghana – the darling upstart of the tournament, I'm excited to try my hand at soccer reporting again, so here goes…drum roll please…
Group A – France, South Africa, Mexico, Uruguay
Since they lost both Zidane and Barthez, France's star has been waning, but they are still deep with Henry and Malouda. Host South Africa is merely a marker for the other three teams, but in a close game, might get a call or two to give the hosts a lift. Mexico and Uruguay are a level down from the elite teams and do not travel as well as France. Mexico has the edge head-to-head against Uruguay, but doesn't have the firepower of France, though they may give them a tough game. France and the Mexico-Uruguay winner advance, but not much farther and certainly not to the semi-finals.
Group B – Argentina, Nigeria, South Korea, Greece
A tougher Group than it looks on paper. Now that Italy have finally closed the deal after decades of heartbreak, Argentina is the biggest bridesmaid, underwhelming at times, narrowly missing at others. Despite being deeply talented with Messi and Mascherano, they'll have their hands full every game. Africa always has one surprise for us per Cup, but may have two in Ghana and Nigeria. Greece is better than people expect, and South Korea is steadily rising. Argentina should advance, with the winner of Nigeria-South Korea as well. Give Nigeria a home-continent advantage.
Group C – England, USA, Algeria, Slovenia
The hype is all about England-USA, and that should be one for the ages. It's a shame it has to be played at the Group stage. Is there any more stirring sound at the World Cup than 30-35,000 voices all singing "God Save the Queen?" Either the US will gel, play well, and advance from this group – which they should – or they'll fold up like a gun metal grey chair and limp home angrily. Algeria and Slovenia aren't pushovers, but they're not powerhouses either. If England and the USA don't advance, when they get back home, they should be egged on general principle.
Group D (Group of Death) Germany, Ghana, Australia, Serbia
Now do you believe me about Ghana? How everyone laughed at me last year when I wrote, "They will win one game and knock that team out." Well they won two games and knocked out both of the teams they beat. This year, led by Michael Essian and Samuel Inkoom, they finished second to Egypt in the African Championships, losing 1-0 three weeks ago. They will advance, probably with Germany. Australia plays well on both sides of the ball and Serbia can beat anyone and make a run deep into the tournament as well. Give Serbia the edge over Australia, but don't be surprised to see any strange combination of teams from this group. P.S….someone please get the Australians a new nickname, because "Socceroos" just makes every other team want to kick their ass harder. After all, would you want to look your girlfriend in the eye and tell her you lost to the Socceroos?
Group E – Netherlands, Cameroon, Denmark, Japan
Netherlands-Cameroon-Denmark-Japan? What blind man made this a group? This bunch of also-rans has no business letting two teams advance. Give the edge to the Europeans. Netherlands has Robben and Van Persie, and if they can stay healthy, they can play with anyone. Denmark is surprisingly strong, but there is no clear, marquis, cast-iron, semi-final-quality team in this group.
Group F – Italy, Slovakia, New Zealand, Paraguay
After several murderous groups in the past, Italy, the defending champions and authors of the greatest defensive performance in modern sports history in the 2006 Cup, (they did not surrender a single goal in play in seven games), has a good chance of advancing without the hand wringing of the past. Paraguay can play – they are a good sleeper pick – and Slovakia is strong. I know anyone can beat anyone, but if the Kiwis make a run, it may be a sign of the apocalypse.
Group G – Brazil, Portugal, North Korea, Ivory Coast
Brazil and Portugal…ouch! That's a marquis matchup. North Korea and Ivory Coast are over-matched, but I did hear that Kim Jong II went to a team practice, scored twelve goals and made forty saves, but turned down a place to play for the squad because "this is just too easy."
Group H – Spain, Honduras, Chile, Switzerland
Here we go again with Spain and a bunch of chumps. They consistently get not just the easiest bracket, but the joke bracket. This year playing the role of the typical "Tibet, Antarctica, and Vanuatu," patsies, it's Switzerland-Chile-Honduras, who scare nobody and won't be missed when they're gone.
Okay, so those teams are a little better than footrags, but not much. Switzerland can play defense, but they are overmatched in talent and depth. Honduras is the clear second place choice on offense, but they may get lost in all the hoopla and blow a game through lack of experience. Honduras is better than Switzerland on paper, but Switzerland plays better in big games and plays them more often.
A good guess at the final four might be Germany, Brazil, Argentina, and Italy. Spain is my number one alternate to crash that party. England also belongs in this elite, but may face too many tough teams as the tournament rolls on, and they always seem to let their one mental lapse kill them. Sleepers: Ghana, Honduras, Uruguay, and the Netherlands/Denmark winner.