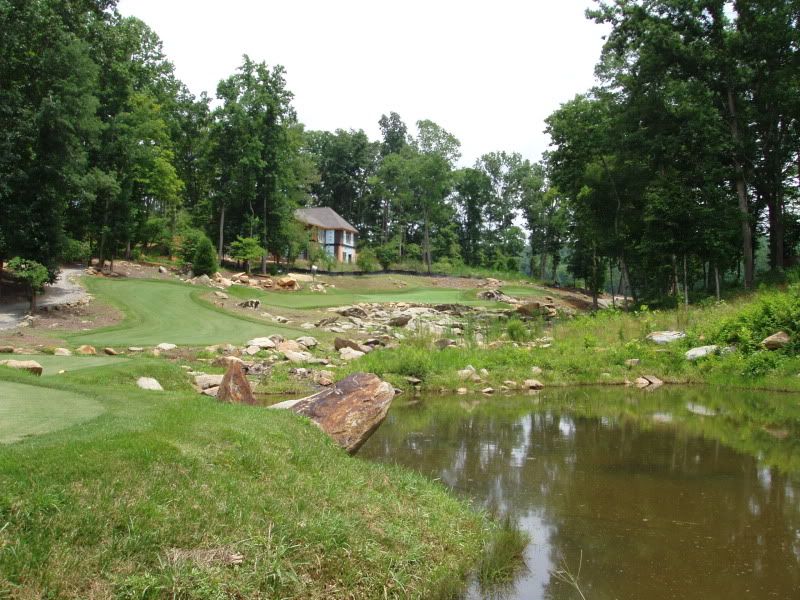 Tot Hill Farm Golf Club in Ashboro, NC is hosting the first annual Mike Strantz Memorial golf tournament. The club's annual "Custormer Appreciation Tournament" has been renamed in Mike's honor and will be contested on November 21 as a 3-player Texas style Scramble/best ball hybrid event designed to also pay homage to the colorful spirit of the late, great golf course architect who designed not only Tot Hill Farm, but Tobacco Road, Bulls Bay, and Monterey Peninsula Country Club (Shore Course) to name a few.
"We've received terrific support from all of Mike courses, and with their help, this event's proceeds will go to the Hollings Cancer Center in Charleston. SC where Mike was treated and developed many friends," said C.C. Pharr, one of Mike's closest friends and one of the principles in Tot Hill Farm. "Additionally, I have been organizing hours and hours of video that I took of the development and building of Tot Hill Farm from 1997 thru opening day in June, 2000," he continued. "I have interviews with Mike as we progressed interviews with all the people who made Tot Hill happen..I was on site daily taking pictures and video which I plan to show at our tourney on the 21st." The 10:00 a.m. shotgun start will be preceded by a breakfast sponsored by Bojangles, a Texas chili lunch sponsored by Tina's Famous Chili, and a ribs and chicken BBQ for dinner.
Although he only has nine original designs to his credit, MIke Strantz's contribution to golf course architecture is powerfully moving and intellectually significant. On four different occasions, Strantz designed a course in an area already well known for excellent golf and on each attempt, his design skyrocketed to top spot in each region. His work at Monterey Peninsula country club is a wonderful compliment to the adjacent gems at Pebble Beach and Cypress Point. Strantz's Tobacco Road has provided stiff competition to the Pinehurst resort, and his twin designs in the Myrtle Beach area, True Blue and Caledonia, have taken over the top two spots in the region since opening in the early 1990s.
"Mike was a pulsar, and everyone not only gravitated to his work, but to his warm, caring, and fun personality as well," said Strantz fan Jack Howell. "When he passed away from tongue cancer at 50, it was the entire golf world that felt the loss, as well as his friends. He was at the vanguard of the sea-change in golf course design that sought to bring back more strategy into the game instead of penal, center-line architecture, but his work also is visually arresting. There is something in it for everyone, and that's just how he wanted it, that was his great gift to share with all lovers of golf." Strantz's fun personality, burly frame, bushy moustache, and folksy charm earned him the moniker "The Maverick."
Strantz's penchant for making players see the fun in "something different, something they'd never seen before" lives on not only at Tot Hill, but many of his courses. Tot Hill was flooded a few years ago, so they re-routed the course to finish with a long par-7. Several players loved the temporary re-routng so much, they'd hoped to have a one-day tournament where the flood-prompted routing is played again. At Bulls Bay, Mike oil portrait as he sist atop his horse Degas and is flanked by family dogs Greta and Sophie hangs proudly in the clubhouse. Many members have shrines to his memory in their homes.