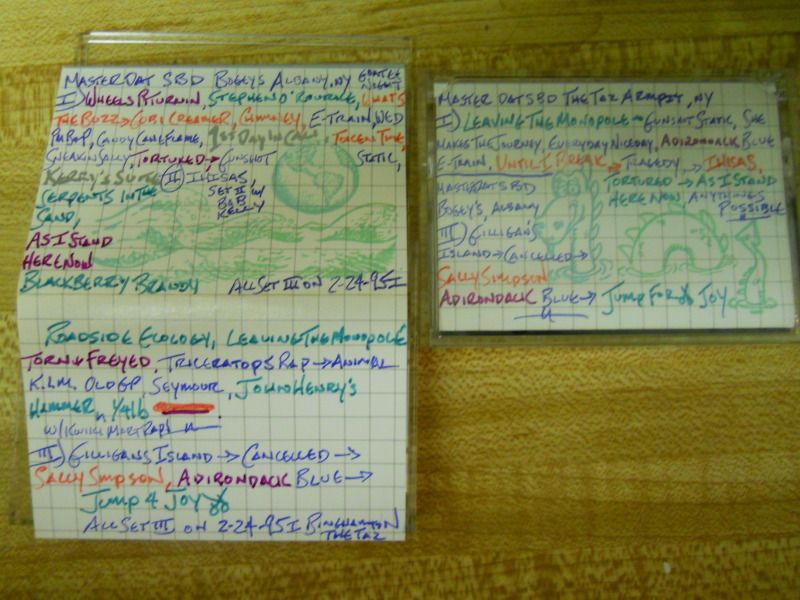 NEW YORK, NY – I'm here with Jay Flemma – Jaybar! – who is working on releasing ten old Seapods shows on Archive under the old "Jay's Plays" series he used to do back in the mid-'90s. We always loved those recordings, and now these new Archive shows should be terrific because everyone will have access to them.
1st SET
BOB KELLY: When was your first Seapods show and what made you go see them?
JAY FLEMMA: It's a story almost exactly like yours, Bob, only six days later! I was representing yeP! at the time, and they were from Massachusetts, so I didn't get to see them much. But one night, they were opening for "this band that's doing a CD release party in Albany."
CD release parties are always events, so I decided to go…the rest is history. The band was the Pods, the album was Econobrain, and the gig was slammin'. I got blown away and came back for more the next weekend in Oswego. Then I saw back to back shows two weeks later in Binghamton and Gilbert Lake State park in Oneonta with moe. and Moon Boot Lover and others, and that was it, I was hooked:)
BK: After that Bogies CD Release party, what were some of the more epic Seapods shows you saw?
JF: Wow! Talk about giving a starving man a menu! I saw and taped around 200 shows (maybe more) and many, MANY of them were epic. (That's the thing about the Seapods, they brought it every night.) I guess in '94-'95 they were morphing – just starting to branch out and jam more, (and longer), becoming more explorative. Some songs were already there like Until I Break, Schizophrenic Rain, and Jump for Joy, but the days of long Blackberry intros or long free-form jams in between or linking songs were still a ways away. But the mutancy was there – the Abrahams, the Bologniuses, the Mr. Bloods, all that. But the first year or so of shows I saw, you'd hear songs evolve over a period of weeks or months. I remember seeing the first live Blackberry (with you) that night at Bogie's, for example.
The upshot is that "epic" means different things in different periods, and an epic show from '94-'95 is completely different for many reasons than one from say '97.
Additionally, it's the venues too, certain venues brought out the best in the Pods. You never wanted to miss a Bogie's show, and you never wanted to miss a North Country show, especially the Waterhole or the Monopole, no matter what year it was.
For specifics, as you can guess from the teasers, I've always had a soft spot for 2-25-95, a Saturday Bogie's show that's timeless. If you didn't know the date, it pretty much could be from any date in their history. Moreover, in terms of the quality of the show, in every facet it stands up well against nearly any show from any Seapod era.
Throughout their history, there were many other Bogie Nights that were special. You know (or will know!) about 10-29-94, the Mike Mosely show, but the third of the Bogie Nights series of releases is excellent too. There are a few more under consideration for the next batch of releases. Moreover, the 7-29-95 show already up at Archive is a great show too. Props to the guys who posted that one, they have great taste!
As for the North Country Freakouts: My Lord! I could have released ten of those and still had plenty leftover! Everyone knows about the Econobrain anniversary, of course, but they played great there from the first date I saw there (6-4-94) until the last! You could really study the evolution of the Pods just by studying their progression through the Waterhole gigs, those shows are a microcosm of the band.
Those Friday-Saturday Waterhole back-to-back sessions were my favorite experiences too. We'd drive through the gorgeous Adirondacks, go to the Friday show, party in the Jacuzzi suite at night, then ski or hike or swim the next day, then we'd all get together for another great show that night. Afterwards, we'd all go back to the jacuzzi suite and kick it. Sunday mornings were at the Blue Moon for Oregon Chai and bagels. It was Heaven.
As you can also recall, there were many great nights in Ithaca and Syracuse as well. You see the 'Cuse dates start to crop up in '96 as they expanded into that market. Before and during that period, the Haunt in Ithaca was always a great place to see them, they always played well there. (Remember I said that…)
BK: What made you decide to start taping them and what were you using to record? How could you know whether a soundboard was gonna suck, or sound awesome? What can we expect from the sound of the Jay's Plays shows?
JF: Well, I was a taper for many years before I met the Pods, and remember that a good entertainment lawyer is also part archivist as well. But I really taped them because I loved the music so much! Like everyone else, once they got to you, you couldn't get enough. Right, guys?
I had a TEAC DA-20 portable DAT deck and a home unit as well (a Tascam DAP-20), so I had terrific gear for recording, but yes, sometimes you were at the mercy of the size of the room or the sbd. You could never tell for sure, but generally the larger the room and the bigger the board, the better the tape came out.
Master DAT SBDs don't often suck. There has to be something particularly uneven in or missing from the mix to make it unlistenable, (you can always re-master professionally, if the band can afford it), but even then I have a small handful of tapes that I kept despite either my having to use mics (Rock Rest 7-3-94 and the Juniper Cruise 9-17-94), or despite the mix being weird, (some early Waterhole shows), because they played some of the best gigs in their career on those nights, they are unquestionably keepers.
That's one thing about the Pods…they ALWAYS got better.
But once we got to the days where Marty Racine or Chris Graf were around, it was fire and forget – they were consummate pros and excellent sound men. They could make a refrigerator sound great, and in the old days, sometimes did!
As for these releases, I gave myself these parameters:
1) Release things most people probably DON'T have. I stuck to 94-95 for this batch. Perhaps a few of these shows, I may have the only copy, (for now).
2) Release things that are historic and hysterical, milestones and watersheds. I really look forward to newer fans' reactions to these old jams and mutations. To the old guard, I hope they make you feel 18 years younger.
3) Release mint sounding shows (for the most part). Most of these are flat out excellent. The one show that's a little uneven is out for a reason: you guys NEED it. One thing I learned doing this exercise, even if a mix if a little echo-ey or treble-ey, the fans will still be able to CRANK it and ROCK. Of the ten, I think one or two are not mint sound, but are so important historically, you had to have them.
That beings up a question for the readers…Would you want me to release a show that was Really Great (capital R, capital G) even though it's an audience recording with the Pods' beat up old Shures?
4) Release a nice broad and deep mix of shows. I tried to give everyone a little Bogey's, a little North Country, and then with the "Scary Good" series…well, let's see if anyone gets the double entendre there:):)
Good Lord willing, this goes well and we all want a second go round, I plan to start a new series called "My Favorite Mutant."
BK: Hahahahaha! Nice! Back then, ('94-'96), I'm sure you remember there was no Facebook, no web-pages, or if so, very few. Mostly word got out by e-mail and "flyers" or band "mailers" with tour dates. Can recall some of the other ways you "got the music out" and how has it changed from today?
JF: It's a new world out there. Back when I started, you'd have to tape everything (in the real old days analog!) in real time and mail it out, one copy at a time. Now you're just waiting for that cool mechanical click:)
Everyone's a taper now, and everyone has massive music collections. You should see all the Lady Ka-Ka and Ma-don't-a and Kanye West my girl Britt has…(Puke-a-tronic!) She can't complain about my DAT collection. Nowadays, everyone can instantly send an almost-infinite number of perfect digital copies of master DAT SBDs worldwide for free. Yes, it's better now, at least in terms of getting the music out there.
On that note, once Eric Budke – who is a Seapods hero for doing this! – once Eric gets done digitizing everything, all the fans across the globe will get three drops of shows – Bogie Nights in about a week to week-and-a-half, then about a week and a half after that North Country Freakouts, and then a week-and-a-half after that (roughly) the Scary Good and "Volume X" tapes.
It's been a wild last few days at my place. Several friends have dropped by and wondered "What the Hell are you listening too?" And I just smile and say, "Oh that's Red Riding Hood Jam from Hey Donnie Osmond…" (The other funny comment they made was during Bolognius: "I see why you like this, it's really annoying." )
BK: Hahahahaha!! So crazy. It's also crazy even for me to listen to some of this stuff that I've had stashed away for years…even decades. What's been the most fun for you about this project?
JF: Other than taking perverse delight in cranking a few choice, twisted, mutated jams at my unwitting friends and at Britt? 🙂
(Laughter)
JF: It's been great to listen to it and recall all the old days. I spent four consecutive evenings listening to so much of my collection. It's a good thing I limited myself to the time period when I did for the first ten tapes to put out, otherwise, I'd still be listening. (Actually, I still am…)
Some of the old jams and raps came right back to me as though I'd never forgotten them, others were like seeing a long-lost friend after a long time. The best part was listening to some ancient jam from [date redacted] and saying "I remember this!"
And I laughed! Oh how I laughed! That's what I look forward to most – new fans I haven't met yet all racing to get on-line and crack each other up with old hilarious nuggets that are new to them. Golfers quote Caddieshack to each other, musicians quote Spinal Tap, we quote Max and Dana!
Some of other my favorite moments of the past week were rediscovering old songs even the Pods seemingly lost track of – like Railyard Scene and Fisherman's Blues. I revisited everything – everything, do you hear?! Even Gunned Down in Wank City, Sellouts Aren't Sexy, and Missouri Jumper Girl. Even Frog! (Talk about "Stump the Hippie"…another game the boys liked to play with the fans, besides "Mutants of the Road," that is…). I must have heard five different "Kick it in the Chimneys," for example, as that was one song that Max always tinkered with. I heard about three different "Too Much Fire on the Brains" as well, another song that only came into its own in '99 actually.
Although I will say, Frog was the one that stumped me…I looked at the tape and said, "Frog?! What the Hell is that?"
Then when I played it back I said, "Oh yeah, that!"
Anyway, I listened to all ten of the first wave of releases so I could do the show notes. It was a scream, let me tell you! Max swinging from the rafters, (oops, there's a hint…), Max in the Butt mask, Max in the Girl with Pigtails and Freckles mask, Dana in the Reagan mask, Dana with the meat cleaver, and bedlam and mayhem, flotsam and jetsam, ludicrously funny. They were the Clown Princes if Rock and Roll before passing the torch to Bowling for Soup.
Now that I've handed the first box over to Eric for uploading, I've been eagerly listening to the second box I put together should this first wave prove popular.
BK: Nice! How many Seapod tapes/shows do you have? And from what years? Notice I'm still using the word "tapes"? Ha. I've moved out west, traveled, moved back, stored tapes in boxes, etc. how have you stored yours?
JF: A lot! Enough that I can easily release another batch of super-ultra-mega-death SICK kills…maybe even two. I've already put together a second box, (like I said, here's hoping this proves popular), and have been gleefully listening to that box for fun while Eric has the first rack.
While I have tapes (yes, they are still tapes. How quaint!) from 4-29-94 though 2001, the first batch of releases are '94-'95. The second box branches out a bit. Most importantly, I'm trying to make sure that I get out the really great shows I have that are either uncirculated or thinly circulated. I was worried about how everything would hold up because I use my DATs so little now and hadn't played these tapes but a few times a year, (some not in many years!), but happily so far it's been smooth. I keep them in wooden wine boxes that I've stained and glazed. They held up better than my portable DAT player!
Regarding the first batch – it's possible anywhere from 4-6 of the tapes no one else has (had) but me. I could be way, way off with that assessment, but I just don't recall that those really old shows were taped by many people. As for the others, some people might have a couple of them in their collections, but only one of the ten is on-line and the new copy of that one is Master DAT SBD uncut. The other nine are new to Archive and I think should satisfy new and old fans alike: old fans with lots of tapes should still find plenty to choose from, and can download a bunch to round out their personal collections. New fans will be like that starving guy that got handed the menu earlier in the interview
BK: Hahahahahahaha!
JF: Are these the ten best shows in my collection? Probably not, but with the parameters I outlined above, I think I truly give an outstanding cross-section of the Pods at that time. Despite there being a handful of dates people may inquire about being absent, speaking as an archivist, if you were to ask me how many of these ten could legitimately go into a Seapods time capsule, I'd say as many as seven for certain, maybe eight.
BK: How did you come up with the name Jay's Plays?
JF: Well as you mentioned earlier, back in the '90s I made a few CDs (they were expensive then!) for the band and band family. It was Gary Lopez's friend T.C. (Tim Cook) that coined the phrase "Jay's Plays," (that's what he called them), and we liked it! So it stuck. Besides, it pays homage to the greatest archivist of all, Dick Latvala – although a huge thanks also to my dear friend Kevin Shapiro of Phish, the greatest living rock archivist. He and I had a few laughs talking about this project over the weekend, and I'm so glad he's psyched to download some when shows we're done. He summed it up perfectly – "If the archivist says it's good, you listen to it. Why wouldn't you?"
But anyway, we all got a kick out of "Jay's Plays" so we brought it back so everyone could enjoy it.
2nd SET TEASER!
JF: Okay, before we start this second set of questions, we have to do one thing first…
BK: What?
JF: Drew Price! Drew Price! Drew Price! Drew Price!
BK: Drew Price! Drew Price! Drew Price! Drew Price!
JF and BK: DREW PRICE! DREW PRICE! DREW PRICE! DREW PRICE! DREW PRICE! DREW PRICE! DREW PRICE! DREW PRICE!
JF: Come on everybody, join in!
JF and BK: DREW PRICE! DREW PRICE! DREW PRICE! DREW PRICE!
BK: Too funny!
JF: Couldn't resist…