Cowboys G.C.
1600 Fairview Drive
Grapevine, TX (just ten-fifteen minutes from DFW airoprt)
817.481.7277
Architect:  Jeff Brauer
Wild winds whipped the plane as we made our way to Dallas.  That's meant the golf would be even better, if I were fortunate enough to get to the course.  Winds around Dallas often wreak havoc on flight plans and there was a strong possibility of a nasty delay.  Everyone looked around digesting the bad news silently, but scowling grimly in disapproval.

We caught a break, though.  I had just written the words, "the stewardess just confirmed we are heading to Shreveport to wait it out.  It might be an hour, it might be eleven…" when the Captain turned on the loudpseaker and said, "Good news.  We had just been ordered to Shreveport, and were turning around, but no more than ninety seconds later, they said, come back, we can fit you in."  We were on the ground a few minutes later.

While the good break bode well for the weather for the trip as well – we've been 65 and suny). I wish I could say the same about my golf clubs…AMERICAN LOST THEM FOR A DAY AND I HAD TO USE RENTALS AT COWBOYS.  THE EXCUSE?  TSA THOUGHT MY DIVOT TOOLS WERE A WEAPON.
MY DIVOT TOOLS!

Anyway, Cowboys G.C. was our first stop on the "Come Back to Texas Tour" (so named because I am playing with rock band Bowling For Soup).  This course was much better than I expected.  I thought I'd be drowning in Cowboys gear, Cowboys fans, Cowboys glitter, Cowboys glam at the Dalas Cowboys Golf Club.
I'm happy to tell every Pittsburgh Steeler fan out there – and the rest of you NFL fans…No way…it was all tastefully done.  Think Tom Landry, not Hollywood Henderson.  There were a few bits of memorabilia, but it wasn't the "Emmitt Smith burger" and the "Preston Pearson driving range" and the "fifth hole brought to you by Leon Lett."  It was tasteful and not overdone; it's a golf course, not a theme park, and that makes a huge difference right out of the gate.  Patrons will take the golf course more seriously.  Well done, Jerry Jones.  It's nice to see the Cowboys associated with grace and class again.
The only nose-tweak was the star painted in the middle of the fourth fairway, but that's just there so one guy in your foursome can be T.O., and the other can be George Teague and you can recreate that "not in my house" moment yourselves while waiting for the green to clear.  My Cowboy-fan playing partners, guitarist Chris Burney and drummer Gary Wiseman of quintessential rock band Bowling For Soup, shared a man-love moment on the star, just to be irreverent.
Really, though, the experience was warm and friendly.  Vic Rodanthe, the pro is a super guy, bright, affable, and sincere.  He's a pro's pro.  (He's an ex-Coloradan, so that explains it.  He makes you feel like everyone is a star at Cowboys – a silver or blue star, to be exact).  You can play golf a la carte for around $100.  If you want lunch, balls, non-alcoholic drinks, and use of the locker room all day…and we're talking all you can eat here…$165-185.  It's high, especially for the recession, but not unfair, you get great golf, good food, and nice digs.  You can't play it every day, but it's nice to visit and 10 minutes from the airport.
Good Job to Jerry Jones also for picking Jeff Brauer, and for letting him have a long leash.  It's also a good sign that Jones wanted something natural, (not tricked up), and that he wasn't demanding a U.S. Open.  When you let a good architect go, you get creative, natural, and often inspired, quirky work.
Brauer delivered an excellent, interesting course.  It's an out and back routing.  The greens have some good contour.  There are plenty of strategic elements, such as diagonal angles.  On the par-3s he sometimes tests distance control (3&6) and sometimes tests accuracy (14, 16)  Jeff, does three have some elements of a short?  (Shaping, the depressed right side of the green, etc.)

We played the middle tees, and inn a  fierce thirty mile an hour wind.  All the par-3s played roughly the same distance.  But it was good they were short.  As a bogey golfer, you get tired of hitting 5-wood all day, maybe if you're lucky a 5-iron or hybrid, so it was also a welcome relief to have a day like that.  When I get my handicap down, I can always move back to the tips later.
5 is a great long par four with terrific horizontal sweep to the fairway.  8 is a great reachable par-5 with alternating shot requirements.  I'm of two minds about 14.  Its a short par-4 with a cool shaped fairway swerving all over and a center line bunker.  I guess its a good par 3-1/2.  18 is terrific with its diagonal line of bunkers bi-secting the fwy.
Chris and Gary's Course Comments:
Chris: It was great fun to play.  The holes were all varied, some short, some long.  The greens had nice movement.  It was a great job Jeff did with the piecde of property.  It doesn;t feel like any other Texas golf course.  It has a unique personality, one we all can call our own.
Gary:  It was challenging, but approachable.  There was a right side to miss, and there was definitely a worng side to miss too.  I was glad they didn't over-do the NFL theme.  It was there for you to celebrate if you wanted, but it wasn't in your face.  My favorite holes were the par-5s.  Brauer makes you fade off the tee, then draw into the green, or vice versa.  You can make the green in two or you can be in deep trouble.  It was a lot of fun.
Design:  5 – 5-1/2 stars (all ratings out of seven), Jeff did some really good work here.  Best Holes = 3,5,8,11,(outstanding par-4 with terrific horizontal sweep to the fairway) 14,(a great short par-4 again with terrific horrizontal sweep and lots of options off the tee), 16,18.  The greens were well contoured, and the surrounds offered a lot of different chipping options.  If I had to nit-pick, I wish he didn't follow the doctrine of symmetry (36-36 with 2 par-3s and 2 par-5s each side).  Maybe that was what the land called for, I don't know.  I also thought 12 needed to lose an overhanging tree and need some more interesting bunkering, but the rest of the course – especially the front, was interesting and made you think.  The routing of the course took you in many different directions and there was a good mix of shrt and long holes.

Natural Setting:  5 stars.  The property isn't the most interesting terrain for golf.  It's relatively flat, but Brauer is an excellent shaper, and has great vision for golf holes.  He made an interesting and varied course over otherwise flat land.  Lesser designers would have struggled.

Conditioning:  We played in dormant season and it was just fine.  The fairways were green, but firm, the greens were a bit slow and hairy, but not so much that you couldn't get a true roll.  Remember, we played in deep December, so it will be completely in three months.
Value:  $100 is just a bit too steep, but there is a lot of architecture, it's a great diversion for a day, they have reduced rates and replay rates, and the "all-you-can-eat/golf/etc" experience is fine a couple times a year.  If they dropped the price just $20 it would become a much better value and more fair.  That being said, the reception you get is great.
Overall:  The whole here is greater than the sum of the parts.

Next up:  Colonial.  I'll have a longer piece on Colonial up at Cybergolf shortly, and during Colonial tournament week, I'll have more at GolfChannel.com.
Colonial C.C.. (Mxwell/Bredemus.  Restoration by Keith Foster)
Does this course look like Southern Hills to you?  I know that GD is saying Maxwell didn't have as much to do with the entire course as opposed to the Horrible Horseshoe and that – in some circles – John Bredemus is credited with more of the design than Maxwell, but the two courses look eerily similar, with the exception that Maxwell's greens have been reserved at Southern and the greens at Colonial are more sedate (if just as fast!).  The same man did the restorations, and the restoration plan followed similar lines as well – pinch in the bunkers, move some back from the tee, move some dog-legs back.  They also sloped some landing areas for the pros back towards the tee to limit how far the drive traveled.  I'm still analyzing what I think about this, it may take some time, I need to really consider it…
Wanna know a great feature?  When you stand on the greens and look back, you can't see any bunkers.  Maxwell learned that from Mackenzie.  (I learned it from Tony Nysse:)
The conditioning was outstanding.  Biscuit brown!  I love biscuit-brown and getting to play a course that you'd ordinarily never see like that was amazing, beautiful, and fun.  It was also educational because the shaping is easier to see.  So all you from across the pond should come out to Dallas for New Years week and play here.  We had an outstanding day.  The food was terrific, the conditions terrific, the course looked surreal – like a windspept heath lined with phantasmagoric dead trees.  It was a unique round because we played her in conditions no one sees – conditions that brought out her shaping much more than if she was rough covered and the trees were in bloom.
3 approach: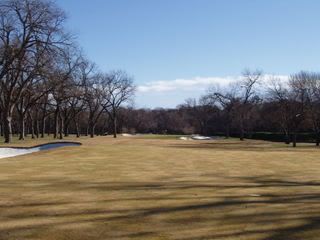 5 approach.  Colonial looks ghostly in gold…almost like Halloween:)  Cool.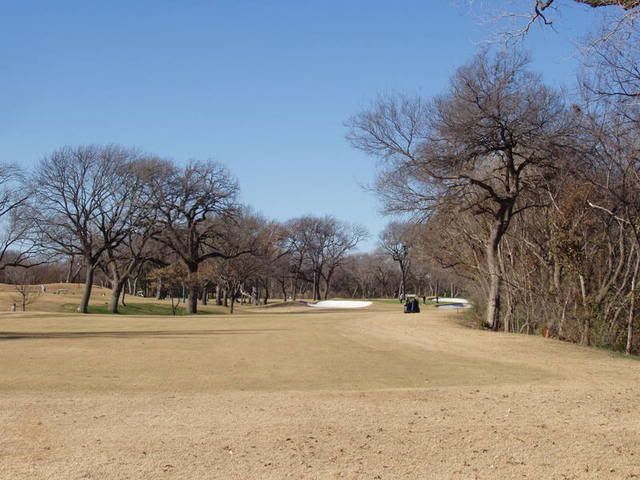 Hidden Gem award:  Turtle Hill.  It's in Muenster, Texas (Muenster!?)  Which means its six miles from anywhere.  A pilot named Dick Murphy saw it from the sky, bought it, routed it, and built it and its terrific.  Its totally minimalist, all the severe features of the property are still there
It's wonderfully quirky. The par-4 second requires a fade off the tee to avoid an over hanging specimen tree on the second, then you turn right and go two clubs uphill.  I don't like it, but with 16 other good holes, and the fact that its what was naturally there, I see why he kept it, it connects him to the rest pf the terrific routing, and its different from every other hole without being too unlike the course's general theme.