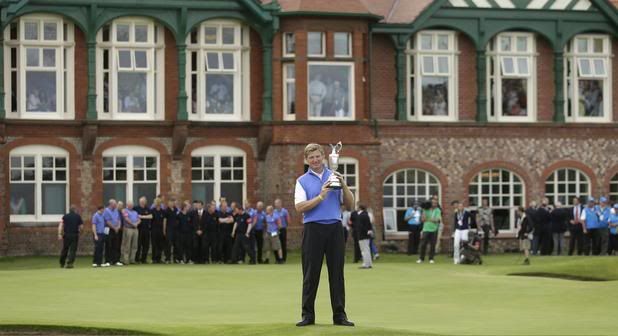 You can't fault a guy for picking up a Claret Jug he finds on the ground.
Ernie Els, who'll tell you himself he had no business winning the 2012 Open Championship, left Royal Lytham & St. Annes the accidental champion while Adam Scott is left to wonder how his wings melted, leaving him to crash like Icarus. Scott bogeyed the last four holes to fumble away the de facto world championship of golf, leaving him still in search of his first major championship. (Scott has won a Players Championship).
Meanwhile, with his one-shot victory Els adds a second Claret Jug to his trophy case along with two U.S. Open championship trophies. He will head to Muirfield for next year's Open Championship as a double defending champion as he won his only other Claret Jug there in 2002.
Make no mistake, the likeable, affable, camera-friendly Scott, one of golf's great hopes for the future, lost this championship in horrific fashion. He dominated the tournament for 68 holes, only to bogey the last four holes like a Sunday golfer. A bunkered approach here, a missed shorty there, an overcooked iron shot and a 3-wood into the face of a fairway bunker, and suddenly what looked to be an "oh by the way" birdie at the 72nd hole was suddenly the margin of victory.
It guts you every time it happens, doesn't it? You club down to hit it in the fairway off the tee and end up in the same trouble you were trying to avoid, (only further back). If that doesn't just kill you every time.
It was sheer murder. All week he was letter perfect and it all unraveled in 36 minutes.
"I can't justify anything that I've done out there," said Scott, who had led the tournament from the start. "I didn't finish the tournament well today."
Scott pointed to the approach on 17 as the turning point. He still clung to a one-shot lead, but turned his iron approach over into gnarly greenside rough.
"It all comes down to the shot into 17 for me that I'm most disappointed with," Scott said. "At that point I'm still well in control of the tournament and I hit a nice shot somewhere to the right of the hole and I can go to the last with the lead still."
"He had half of England right of that flag and he hit it left," quipped playing partner Graeme McDowell, who contended well for three days before spitting the bit on Sunday like he did at Olympic Club last month at the U.S. Open.
Meanwhile Lytham's penchant for giving us Hall of Fame champions continues. Els's 32 on the much tougher back nine gave him the only under par round of all the contenders, who all faltered as the breeze picked up…finally.
"It will probably take quite a few days because I haven't been in this position for 10 years, obviously," he said. "It's just crazy, crazy, crazy. I've been in such a negative mode for a while. It's amazing this game, you know."
He's got that right. Els had been playing poorly for many months. Moreover, he was ranked 75th in putting, and the chances of winning a major with your putter going all Ky Laffoon on you are miniscule.
But that Claret Jug is an elusive prize. Thomas Bjorn had one hand on it in 2003…then he took three shots to get out of the bunker at the 16th at St. Georges.
Doug Sanders had all but tap-in to win the 1970 Open, but let his nerves get the best of him.
"I don't go through my pre-shot routine properly, I rushed that putt," he said after he let Jack Nicklaus int a playoff which Nicklaus won the next day.
Then there was the day Bambi got shot, Santa Claus got mugged, and Tom Watson's approach to the 72nd green at Turnberry bounced hard over the green and he three-putted to fal;l into a playoff with Stewart Cink and his Jolly Rancher-green shirt. Watson was poised to shove aside Nicklaus in '86 as "Golf's Greatest Day" when the magic potion wore off and the carriage turned out to be just a pumpkin after all.
And then. of course, there is Van de velde, forever the motley fool of golf after taking triple bogey at the 72nd hole at Carnoustie to let Paul Lawrie and Justin Leonard into a playoff which Lawrie won.
To his credit, Scott handled the devastating loss with nary a snap, snipe, or sour note, smiling through his pain – almost perhaps too much for some ardent Scott fans, who seemed to agonize far more than he did.
"It may not have sunk in yet, so I don't know," Scott said. "But next time – I'm sure there will be a next time, and I can do a better job of it."
Meanwhile, Tiger Woods, his fans, and his apologists were left to wonder "what if?" again as Woods spit the biut on Sunday fr the second consecutive major championship. His pedestrian 73 left him four shots shy of Els.
Of course, they can look at the bright side – they don't have to endure another victory speech by Scott's limelight stealing caddie Steve Williams. It's a shame no one had the stones to ask Williams if this was his worst defeat ever. Indeed, Twitter was abuzz with Steve Williams jokes until Scot began folding like a gun-metal grey chair from the card table. Then only one journalist had the brass to ask, "Is Stevie choking?"
So as we turn to Kiawah Island for the PGA Championship and the year's final major, only three things are certain:
1. Anybody has a chance to win the Claret Jug. Ben Curtis, Stewart Cink, Darren Clarke, and Els were all in the "Where are they now?" file when they became unexpected "Champion Golfers of the Year."
2. The majors are wide open. Grab for the brass ring boys, and remember two words: Keegan Bradley.
3. Woods goes legs up in the wind, and no, I don't mean porno movie legs up, (this time). It will likely blow at Kiawah. After all, we are oceanside.
Dye on Kiawah: "It all depends on the wind, but that's th eone thing you can't depend on…"
Sounds kind of lie the Open Championship:) Hey Golf Gods! Thanks for the comedy routine yesterday…but I'll trade the morality play for more wind any day…I'm just saying…so is Adam Scott for that matter.
As for Ernie, let's not forget that instant classic of a back nine he shot – 32 including a closing birdie when he absolutely had to have it.
Birdie the 72d hole of a major when your in contention and good things happen…