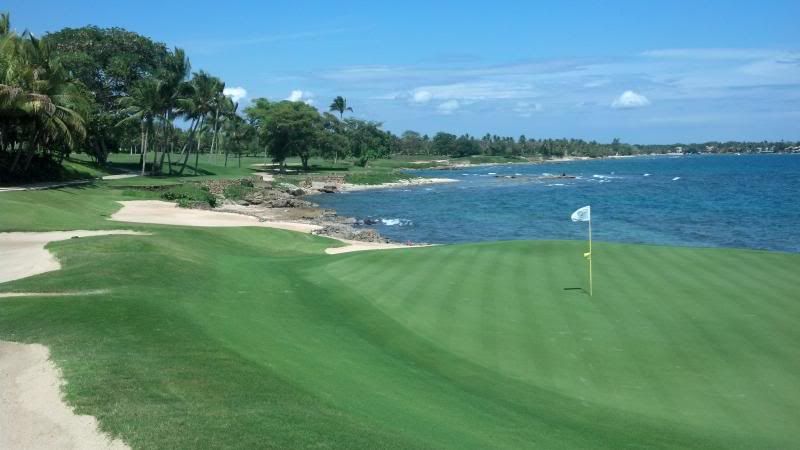 LA ROMANA, DOMINICAN REPUBLIC – "Senor Flemma! Senor Flemma!" beamed an eager, effervescent young Jet Blue employee named Yorkis, "Choo are een furs class! Ho Boy!"
"I've been riding first class all week," I replied, smiling a fine, wide, satisfied smile right back at him.
"Ho! Berry goo for choo! Hee hee hee hee hee!" he chucked amusingly. "Choo like our cone-tree?"
Yes, Yorkis, as a matter of fact I like your country quite a bit. The Dominican Republic, and in particular Casa de Campo: the crown jewel of the Caribbean and Latin American travel industry diadem treated me like royalty. So much so that the free upgrade to first class for my flight home seemed almost obligatory. I'll have to miss my scheduled flight more often. That's two free upgrades in my last three assignments to the Caribbean.
So as I sit in seat 3A of Flight 111 to JFK, Laura the stewardess pouring me a frosty mojito, ice beading on the glass, plump, tart limes and fragrant mint complimenting the smooth headiness of the Brugal Blanco, and the sun setting into the Caribbean in a blaze of glory, I bask in the warm glow of the vacation of a lifetime. Countless travel magazines have called Casa de Campo the greatest resort on the planet. Now after being assigned to separate truth from hyperbole, I can tell you that they may actually understate the case.
This wasn't just a golf writing assignment though; this was an experiment in human anatomy and psychology. After 18 months of juggling a high-octane law practice in NYC, (read: dealing with greasy-haired, nerve-rattling fellow lawyers gnawing at the ends of their failed lives), and keeping up with the hectic schedule of a sports writer/editor for several national publications, I desperately needed to relax and re-center things.
But two cracked and two bruised ribs sustained in a fall getting off a train only two weeks before leaving for the trip and suddenly I was a human guinea pig. How the heck was I going to survive the rigors of this assignment, let alone enjoy it? The sheer size and scope of this gig were staggering: ninety holes of golf at resort the size of a small city with every imaginable diversion one could desire. I could barely walk, let alone swing a club.
Happily, a rib injury leaves you ambulatory, so although I was hobbled I went ahead and went down to Casa de Campo anyway. I had medicine, I had physical therapy and, after all, I needed to convalesce. I could think of no place better than a pristine, island paradise, could you?
Well Casa de Campo was the panacea…the elixir…the restorative I'd hoped it would be. 90 holes of the greatest golf in the World, all designed by Pete Dye – the foremost golf architect of this age – sapphire waters lapping at pristine coral-ringed beaches, fine food, all the typical resort activities one expects, (swimming, hiking, tennis, horseback riding, Latin American and Caribbean dancing, river kayaking, pottery lessons, deep sea fishing, and spa treatments, for example), and some unique to the resort, (like equestrian jumping, polo, trap and skeet shooting, Cigar factory tours, yachting at the marina, exploring the village of Altos de Chavon, zip-lining, cave and archaeological site tours, and dune buggie racing): Casa was touted as the most complete resort in the World and one of the largest; it surpassed even the lofty expectations I had coming in. And best of all, not only my mind, but my body felt light-years better when I left.
It did exactly what a great vacation spot is supposed to do.
THE GAZETTEER
The Dominican Republic comprises roughly the eastern two-thirds of a Caribbean island called Hispaniola, the other third, (the west), being the nation of Haiti. Part of a larger archipelago called the Greater Antilles, the island lies due west of Puerto Rico and east of Cuba. Venezuela is due south. The Dominican part of the island lies between latitudes 17° and 20°N, and longitudes 68° and 72°W, well within the Tropics.
The Dominican Republic boasts the second largest economy in the Caribbean and Central America, and the ninth largest in all of Latin America, impressive for so small a country, although by area and population, the Dominican Republic is the second largest Caribbean nation, (after Cuba). While sugar formed the backbone of the region's economic rise, tourism has been its central nervous system, with Casa de Campo by far and away its greatest draw.
The country can be divided into two main topographical regions: the highlands, (featuring four parallel mountain ranges), and the lowlands which consist of long parallel valleys laying northwesterly direction. The nation's capital, Santo Domingo is located on the southern coast, as is the town of La Romana and the 7,000 acre Casa de Campo resort, seventy-five minutes east. This island paradise is surprisingly mountainous, with peaks reaching past 10,000 feet. Its tropical maritime climate, with trade winds moderating the heat, stays remarkably constant between 73 and 89 degrees Fahrenheit throughout the year. (According to the Teeth of the Dog Android or iPod app, which you should all download immediately, it's always 88 degrees and sunny…). In 2007 the country's population was estimated by the United Nations at 9,760,000. The chief exports include sugar, phosphates, cocoa, coffee, ferro-nickel, tobacco, silver, mangoes, left-handed relief pitchers and rum, (especially Brugal and Atlantico, the two finest and most sought after brands).
Ah, rum! Welcome to the Caribbean. What was it Robert Louis Stevenson said about rum? "It is a vile drink that turns even the finest gentlemen into complete scoundrels?" But what does it turn the complete scoundrels into? Lawyers? Investment bankers? Sports league commissioners?
Anyway, baseball is by far the most popular sport, and the country boasts a league of six strongly competitive teams. The wet or rainy season is from May to November in the south, and from December to April in the north. Hurricanes can occur between June and November.
THE COUNTRY HOUSE
Casa de Campo, (Spanish for the "country house"), was built by sugar. Gulf & Western produces more than 300,000 tons of raw sugar annually, and it's said that one out of every three teaspoons of sugar consumed in the U.S. comes from their Dominican holdings. Before you dismiss that figure as some left-handed, power-worshipping P.R. hyperbole, consider that it's actually quite common in the Latin world for regional "jefes", (as they are called), to often control large power blocks in commodities. It happens all the time with airports and fuel licenses.
In the Latin world sweetness is power, and with a solid dominance in sugar market as the basis for the company's empire Charles Bluhdorn, Gulf & Western's founder and CEO, developed 7,000 acres (28 km2) of its Central Romana sugar mill land into a private retreat. After Bluhdorn's death, the Cuban-American Fanjul family (the world's top sugar barons), bought Casa and opened it to paying guests.
Since then it's grown into arguably the world's most prestigious destination, a city unto itself, with over 1,700 private villas, (which range in price from US$500,000 to US$24,000,000, making it also one of the countries' most affluent communities, comparable to the Hamptons), a modern, 400-berth marina, complete with a shipyard with a 120-ton TraveLift designed by Italian architect, Gian Franco Fini to resemble Portofino. Surrounding this harbor are over 70 restaurants, shops, bars, and homes, and yes, five – soon to be six – Pete Dye golf courses. Hollywood even uses the Chavon River site as the backdrop for the river scenes of movies such as "Apocalypse Now" and "Rambo 3." It's truly spectacular.
Guests can stay in any number of options for accommodations, from comfortable golf course-side rooms to villas to entire houses with thousands of square feet. Every amenity is available including laundry service. Indeed, one lynchpin of the resort's great reputation (among many) is the impeccable service. From the moment you step on property, they are there to help you in any way you want; the word "unaccommodating" is not in their vocabulary! It's a refreshing change from the U.S., where service has taken a nosedive in the last decade. Some places, Turning Stone Casino for example, think you should feel privileged to be on their property. They care more about siphoning your money from you at the tables rather than making sure your stay is comfortable. At Casa the mantra is simply, "whatever you need." They look forward to making your day better in any way.
The food is solid: options are varied, the menus modernized so as to offer a mix of Dominican flavors presented in dishes well accessible to the modern palate, and there is a heavy Italian influence due to the large number of Italian ex-pats who live on the island.
Now truly traditional Dominican cuisine is predominantly Spanish, Taíno, (an Indian tribe from the Bahamas), and African. It usually favors starches and meats over vegetables and dairy products; there is a lot of rice, beans, and yuca, along with stews of various meats.
For a Latin country, Dominican food is surprisingly bland. They grow no peppers, (they're just not indigenous to the country), and Dominicans rarely season their food to any where near the spicy extent that Americans, Italians, or Mexicans do. Presumably, the large number of Italian expats has at least introduced crushed red pepper to the natives, (who call it "pepperoncini," not to be confused with what we call pepperoncini, those little spicy, light green Italian peppers in vinegar). Of course there is Tabasco and, if your lucky, the occasional chipotle here or there, but to order your food spicy, you have to hammer the point home, so they can turn over the kitchen to find what they can. (Also, don't go expecting chorizo, you won't find it easily, although there are several types of regional sausage, again more mild than spicy. There is a local white pork sausage – what we might call a "white hot" here in the States – which is similar to Midwestern brats).
Casa de Campo, however, has partnered with some of the best and most famous restaurants in the world to offer a wide array of culinary choices. They blend Dominican ingredients and specialties with other world cuisines to make dishes both authentic, yet Westernized. The main restaurant, La Cana, is located in the lobby of the main building. It's by Il Circo and specializes in both steaks and varied seafood dishes. The ceviche is downright refreshing on a hot day and serves both as a terrific appetizer or a light and healthy lunch. For dinner, I thoroughly enjoyed my Dominican seafood creole, an authentic island delicacy, and a particular specialty of La Cana. Unlike our creoles in America, this was tomato-based and featured shrimp, scallops, and several other kinds of fish. Raul Cendoya, one of the resort's assistant pros, made a wonderful choice in selecting a tuna steak topped with calamari and crab.
The culinary highlight of the entire trip was the Friday evening BBQ at La Romana Country Club. An enormous buffet of carved meats, BBQ beef and pork, fish stews, pastas, and a whole galaxy of vegetables, fruits and starches is served al fresco overlooking the club's swimming pool and 18th hole. It's a sparkling scene. Besides the myriad desserts, I recommend you finish your meal with cappuccino made with the strong, yet well-rounded Dominican coffee and a deep snifter of Atlantico, the house rum, which is well aged and incredibly smooth. It is, perhaps, the world's most elegant and refined-tasting rum. After one sip of Atlantico, Bacardi will forever taste to you like rancid Listerine.
La Romana is a private country club, but its members play the other courses as well and roam around the site enough so that you'll have a good chance of making friends with someone and getting the lucky invite for Friday night. They're rightfully proud of their club, and as such, they also love to show off their rare and wonderful 27-hole golf course: the "Old Course" and the "New nine." After all, how often do you get the chance to play Pete Dye golf course outside the United States?
As an aside, that's yet another of Casa's great benefits – you go on vacation and you come back with a dozen new friends.
"You've always got friends at Casa," beamed one bubbly hotel employee, and she's right.
Moving on, despite its name the resort's Italian option, La Piazzetta, does not offer pizza, but does have everything else you'd want in a ristorante. There are myriad pasta, meat and chicken dishes. Seafood also is again a star of the menu as well. My dining partner enjoyed a gigantic mixed seafood grill, while I had an excellent mushroom risotto. The octopus appetizer was both tender and savory. You could cut the pieces with a fork and the charcoal-grilled aroma made you think you were on the Amalfi coast for a moment.
While La Piazzetta's inner décor is a charming tavern atmosphere where an accordion and guitar duo stroll around making pop songs sound mournful and romantic, (Richard Galliano and Bereli Lagrene have nothing on those two guys!), the restaurant is located in Altos de Chavon, an entire village designed to look like an old stone Spanish-style mission. On the outside it looks like an old stone meson.
"It's hard to believe all these buildings are only 30 years old. It looks several hundred years old," said one visibly impressed resort guest, and she's correct. One should spend a half-day sightseeing the village and all it's quaint shops, archaeological treasures, and scenic spots.
The Beach Club is perhaps the most impressive dining option. A large, open-air space just steps from the lapping waves of the Caribbean, you can watch the sun dive into the sea in a blaze of glory, setting the sky on fire with a full palette of reds, golds, and purples as you eat your supper.
The Beach Club is by world famous Le Cirque, so you can expect, (and will get), an outstanding culinary experience with one exception, the pizza.
"You ordered a pizza at a Le Cirque restaurant??!!" howled a horrified friend of mine when I was back in Manhattan. Her reaction was so scandalized you'd have thought I'd asked an Orlando, Florida Perkins waitress on a date to the Masters champions dinner. Yes, I did, and I'll tell you why: chorizo!
The first thing I did when I arrived Thursday was have lunch at La Cana. I'd been up since 2 a.m. and I wasn't about to go face Teeth of the Dog on an empty stomach, so when I picked up a menu and saw "Chorizo pizza" on the menu, I snapped it shut with a satisfied smile. I love chorizo, and I'm 100% Italian, so I had that pizza halfway down my gullet before the waiter arrived to take my order.
The only problem was I grabbed the wrong menu. The stack of menus was there to acquaint everyone with all the resort options, and I had picked up the Beach Club menu by mistake, not the La Cana menu.
Oh well, ceviche sounds great too. I'll have chorizo later.
But trying to find a chorizo proved to be harder than trying to find a virgin in a maternity ward! There was no chorizo at La Cana, the resort's Lago Grill (the breakfast and lunch restaurant near the first tee of Teeth), and obviously not at La Piazzetta. So I was going to have that chorizo pizza at the Beach Club for an appetizer come hell, high water, or the head waiter's reservations about my selection.
Remember how I said they filmed "Apocalypse Now" here? Well Charlie don't surf, and the Beach Club don't do pizza. I like my pizza thin and crispy, (I like my women the same way), but the crust here didn't rise well, had a flat, almost undercooked consistency and no flavor. The cheese was bland and unsatisfying, (though the chorizo was savory), and there was little in the way of tomato sauce to tie the flavors together. Hello??!! Wood-fired grill?? After all, you can't spit without finding one of those in New York…
The meal revived nicely however with the arrival of our main dishes. The remarkable comeback began with an excellent seafood linguine with a light white wine and garlic sauce and tender shrimp, scallops, and fish, and the meal hit its apex with the arrival Dye Fore Head Professional Dave Pfisterer's selection of a superb mixed seafood grill in which a gargantuan lobster tail was the centerpiece. Other diners had enormous steaks, lamb chops, and chicken dishes.
Breakfast and lunch are served buffet style at the resort's Lago Grill overlooking the 18th hole of Teeth of the Dog. Take your typical Sunday brunch buffet spread and the double it. The juice bar had all the usual offerings plus guava, mango, papaya, peach, and passion fruit juice. (After a tall, refreshing glass of mango juice, you'll never settle for orange again, and peach is damn good too.) Yes there are serving trays of bacon and sausages, but there are also mashed plantains, (a particularly tasty Dominican delicacy), native sausages, an omelette station with a grillion add-ins for your eggs, and a cornucopia of rare tropical fruits, breads, and coffees. For lunch, they'll grill skirt steaks, churrasco, native sausages, (other than chorizo), chops, and other cuts of beef and pork. I didn't miss my chorizo at all with a juicy skirt steak steaming on my plate. But I'll bet that by the time I come back, they'll have chorizo. Casa's that kind of place.
That's what really sets the resort apart from all others: the sincere value of a place like Casa that goes the extra mile for their guests, a place and people who really care that every second of the experience is first class all the way versus insincere value of a stuffy American resort or worse still a tourist trap. The world is full of seaside resorts, but perhaps the biggest reason people from across the globe come to Casa de Campo over and over again is because at Casa they understand that people still value service, and that makes all the difference.
But Casa de Campo is so much more than just a resort. With its enormous size, (it's a city unto itself), broad array of activities, and inimitable Dominican culture and cuisine, it's a lifestyle and a magnificent one at that. It's a whole Fellini-esque la dolce vita a la Portofino, Lake Como, or the south of France in the early 1970s. (Think Nellcott in the spring, not the fall.) It's how the other half really lives. It's fun and vibrant, but it's never campy, cheesy, or over the top with partying. Instead, it's classy, refined, and dignified. Some places try to fake that ambiance, but come off hackneyed or cheap at best, snooty or disingenuous at worst. But there is nothing manufactured about the ambiance of Casa de Campo – there is no hustle, shuck, chintz, or cheap glare – it's sincere and it's rejuvenating… and every other resort should just sigh and resign themselves to second-place status. Getting outshined by Casa de Campo is and will for the foreseeable future be an occupational hazard of being their competition.
Or at Tom Doak put it in his quintessential book on golf courses, "If you're headed for the Caribbean, there really isn't any reason to go anywhere else."
DYE-SSECTING PETE AND HIS COURSES
Cabana 367 – 5:30 a.m., Friday – The Rolling Stones' Exile on Main Street blares from the stereo. I needed rebellious music to match my excited mood. I still marvel at my incredible good fortune at being able to hobble around Teeth of the Dog with a swing made from Popsicle sticks, duct tape, and Elmer's glue.
All right, actually it was a great caddie named Rafi, physical therapy exercises, warm sunshine, maximum-strength Tylenol, and Brugal Extra Viejo. Who cares? It worked. The ribs really only bothered me when I lay down, so sleeping was rugged. Hence my being awake at 5:30, but it gave me the chance to watch the sunrise over Teeth of the Dog.
Right on cue, Mick Jagger sings, "The sunshine bores the daylights out of meeeeeeeeeeeeeeeeee…" Mick, you party animal, you are horribly, horribly wrong. Casa's got some sunshine you'll like just fine.
Anyway, Exile on Main Street was the result of the Rolling Stones having to fight back against the World, (in particular the Wilson administration's ludicrous 93% tax bracket), so it was fitting I looked to rock and roll most sincere iconoclasts to motivate me for beating back my rib injury. Isn't it strange that it was eight British guys who gave black Gospel music back to America? And did they ever do it right. That's what happens when you have that "us against the world mentality" going for you.
I guess it's the same as Pete Dye giving golf to the Caribbean. You'd never have expected it, but Dye took the opportunity in what was virgin territory for golf design and now Casa de Campo must be spoken of in the conversation of the world's greatest golf resorts. It's Bandon Dunes, but with much better weather, accommodations, and things to do. Only Bandon, St. Andrews, and Pebble have as string a line-up through the entire list of courses. And it's got more seaside and cliff-top holes than Pebble Beach, but it's a much better value and far better weather year-round. There's no June Gloom in the Dominican – palm trees dip and sea gulls swerve, and trade winds blow gentle breezes while sapphire-blue Caribbean waves lap serenely on pristine white sandy beaches. It's idyllic.
But to do it, Pete Dye had to build his career going against the World, or at least the biggest name in the World: the Jones juggernaut, which was in full ascension at the time.
"I saw what Robert Trent Jones was doing and I knew that to carve out a niche, I'd have to go in completely the opposite direction."
It worked, he carved out a niche all right…in as big a way as Trent. He took on the biggest name in golf and grew just as renowned by designing courses diametrically opposed to Jones's bread and butter ideas on golf design. Where Trent built oversized greens, Dye deliberately designed smaller greens, a perfect natural defense to scoring. You don't need 7,700 yards when a guy is scared with a wedge in his hands because if he misses the green he's wet or twenty feet below the pin, or in a zany pot bunker, or deep inside some enormous greenside swale.
"I hate it. He took Augusta's greens and miniaturized them," howled an apoplectic Tom Watson after he saw Dye's work at Sawgrass.
"Thanks, Tom," replied Dye. "I've always thought Augusta's greens were too big.
Where Trent built runway tees and ramrod straight holes that only allowed a center-line attack, Dye made his holes swerve around the hazards, creating what experts cal the Line of Charm. What that means is that the direct line to the hole is totally fraught with peril. You can try some heroic carry over water, an ocean of bunkers, scrub and brush or anything else he can think of, or you can shape your golf shot with the turns and twists of the fairway, which frequently go one way off the tee, and the other way into the green to keep the golfer off balance. Or you can strategically tack your way around the hole safely, but the choice of how to play the hole is yours, not the architect's. The Line of Charm has been used to great effect by architects from Alister Mackenzie and Max Behr in the Golden Age to modern guys like Tom Doak and Mike Strantz – and it's Dye's bread and butter defense at the Casa courses.
And where Trent had a nasty habit of elevating tees, elevating greens and insisting on framing his golf holes so you are spoon-fed exactly what to do, (the tired, passé "Doctrine of Framing"), Dye embraced the great strategic Doctrine of Deception, where the player has plenty of angles of attack to the hole and can choose his line, but then must execute or else.
Over the years, Dye has become the most influential and prolific designer of our generation. "He changed the face of golf and golf design," reads his plaque at the World Golf Hall of Fame and it's true. His style is inimitable, his mark indelible, his contributions to and advances of the craft undeniable.
Dye's favorite architect is Seth Raynor and perhaps no facility of his looks more like Raynor than his work at Casa. Now Dye doesn't merely copy template holes, instead he follows instead the general themes, principles, and defenses of Raynor, (and therefore Macdonald and Banbs as well). First and foremost the direct line to hole will be fraught with peril, if it is playable at all. (At Casa, it's usually not; a lake, an enormous bunker, the Caribbean Sea, a steep grassy drop off into perdition, the Chavon River, or any other hazard will intervene, so you have to play around it.
Now come all the angles: usually one edge of the fairway will drop into the hazard, so you must stay well clear of the razor's edge. If you don't hit the golf ball to the correct side of the playing corridor, you are so far below the level of the fairway or green, you may even have a blind shot in. It's exactly the kind of defense Raynor and Macdonald used at National Golf Links of America. The fairways are enormous, but if you're on the wrong side, you either have a blind shot in you're your view will be pbscured and you'll have a terrible angle. There's plenty of room, but proper positioning is critical.
Now the safe side of the fairway will also be divided into 1) a truly safe side, (but your angle into the green will be worse for the better golfer. The green will be wider for the amateur player, but it will test the distance control of the better player), and 2) a more risky the side that challenges the hazard, but offers a better angle to the pin, (usually right down the axis of the green). This is his is the first and most important defense Dye employed at Casa de Campo, whether it's holes like 13 and 18 at Dye Fore, (i.e. four and nine of the Chavon nine), the opening two holes at La Romana Country Club, or even seaside holes like 15 or 17 at Teeth. You know how people say some courses are a "second shot golf course?" That's not the case at any of the Casa courses. For an expert golfer to score well, he can't spray the ball off the tee. He can recover, but he won't be able to post a number.
Amateurs, however, welcome the width because they're never out of the hole. The playing corridors at all the courses at Casa are actually really wide, at times enormous, so amateurs can whack the ball around and recover as long as they stay away from the more penal hazards like the river, the sea, or the jungle. As long as they their way around they can post a score they can be proud of…more so because they did it at Casa! You always remember your great rounds at special places. Therefore, off the tee, amateur golfers should follow the "Rule of Thirds" on a Pete Dye golf course: Take the safe half of the fairway and play to the safe third of that half. Execute that game plan, and you'll find these reputedly "unconquerable" golf courses quite playable, and will find that Dye's visual tricks are far less menacing than they appear.
"It's when you try to bully a Pete Dye golf course that you find it bullies you," as Raul Cendoya succinctly put it. Don't play like a gorilla trying to shake the last mango out of the tree. Take the low-hanging fruit and move on. Survive and advance as basketball player say.
"It's all about off the tee," adds Director of Instruction Eric Lillbridge. "Take, for example, the Marina nine. The shape and angle of the greens dictate what section of the fairway you need to come in from. From the correct angle, greens are narrow, though long, but if you're out of position, forget about it. That's when it gets very demanding."
That being said, you can take driver out on every hole except the par-3s.
Additionally, nowhere in the world does Pete Dye's work look more like Seth Raynor than at Casa de Campo and in particular at Dye Fore which also features large geometric shaped bunkers. There are several outstanding Cape holes, (several at Teeth, 12 at the Links, etc.), Knoll holes, (14 at La Romana, three and eight at the Lakes nine/Dye Five), Alps features, and even a maiden feature/"Pillars of Hercules" at the closing hole of the Chavon nine that is straight out of Turnberry, Carnoustie, or any of the several places the Raynor bloodline used it.
There are some other general themes which Dye uses State-side as well as here:
—Rather than ring the greens with rough, Dye gives you lots of grass bunkers and hillocks. Happily, the shaping here is less modern and pronounced than at some of his later work, so it's smoother and more natural looking. But most important is the way plays: most of the time, you can putt, chip, pitch, lob or bump and run. There are myriad greenside options. Expert golfers will need the lob wedge to be sharp if they want to shoot a number, but amateurs can play to their strengths.
—The greens also have both macro and micro-movement, so they defend par brilliantly. Some even have two tiers or false fronts or sides.
—Outstanding fairway undulations. From the mildly uneven lies of Teeth and the Links, to the more pronounced up-and-down of the broad hills of La Romana to the heaving, mountainous seas of grass of Dye Fore, the terrain is outstanding for golf.
—Temptation and strategic choices. "Pete lets you hit driver all day, but you have to plan the shot correctly. He'll tempt you into a bad choice and that's when he zaps you!"
—A broad array of bunkering styles. Most architects select one style of bunkering or at least a theme and stick to it to give the course a consistent flavor. But Pete Dye uses several different styles of bunkering not from course-to-course or hole-to-hole but bunker-to-bunker! Pot bunkers, strip bunkers, geometric bunkers, waste bunkers: Pete's "style" is inimitable for its unpredictability, you cant pigeon hole him and, therefore, his holes look unique to him. No one else other than Doak and to a lesser extent Gil Hanse does that as well right now.
"It makes every hole have its own unique form and different way of being played," explained La Romana Country Club superintendent Jorge Nunez. "It's like the fingerprint no one has the same one, no one can copy it."
Some of the bunkers are gigantic, almost oceanic at times, (the Marina nine at Dye Fore especially). Others like 10 at Teeth of the Dog begin at the tee box and end at the green, making the golfer sweep wide around the hazard. Still others, (many of the holes at Five), are a vast dunescape of bunkers peppering the fairway. On that note, remember that old joke Jimmy Demeret used on Trent Jones? "Hey Trent I saw a course you'd love the other day. You stand on the first tee and drop a ball over your shoulder." Well I have one as well: Hey Pete! I saw a course you'd love the other day! You stand on the first tee and there's nothing but a bunker.
Choosing where to play? That's like giving a starving man a menu. Teeth of the Dog is the flagship for a reason. It's gorgeous, it's intelligent, it's beguiling. You can't help but fall in love with the place. The Links, while inaccurately named, has some excellent moments. The back is particularly strong, while the front showcases some holes unique in Pete Dye's repertoire, ideas he never explored at other courses he designed later. Dye Fore is so exciting you wish it go on forever, golf on the edge of the World: 100 yard wide fairways, broad expansive vistas, and a brilliant routing exploring the most exciting and interesting portions of the property. Failure to include it on the short list of the absolute greatest golf courses in the World is a colossal blunder. Five is completely different, almost a desert ecosystem, featuring a wide variety of shot requirements. And La Romana is a terrific test of golf with excellent green complexes, a variety of terrains, and a "New" nine similar in flavor to Five.
Best of all, you'll play quickly. As a single I played Teeth in 3:09, La Romana in 3:20, and the Links in just 2:50. Fore takes a little longer, two of us took close to four hours, mainly due to its enormous size – 7,770 yards with a few long walks between tees and greens – but the nine holes at Five (The Lakes), can be played in less than 90 minutes and is an easy walk.
Tom Doak was right. In the Caribbean, there's Casa and there's everywhere else. It obliterates Jamaica – those courses seem junior varsity by comparison – and while Puerto Rico has the occasional excellent course, Casa de Campo has so much more outstanding golf as well as varied diversions, (and at a better price), P.R., likewise, is a distant second place.
And in case you're curious: No, Jamaica and Puerto Rico didn't serve chorizo either.
[Author's Note: Next up – Teeth of the Dog and the Links. Then La Romana Country Club and Dye Fore/Five/Six]
NEWS, NOTES, AND QUOTES
Casa is running a "Golf Legends" summer special that can't be beat – 329 USD per night, per person all inclusive: golf, room, and food. Look for details at www.casadecampo.do.
MAINTENANCE SCEHDULE:
Dye Fore Marina 9 is closed from 5/6 – 10/1 for green renovation
The Links will be closed from 5/13 – 6/17
Teeth of the Dog will be closed from 6/17 – 7/30
Dye Fore Chavon and Lakes 9s will be closed 8/1 – 9/15
This article also ran at Cybergolf