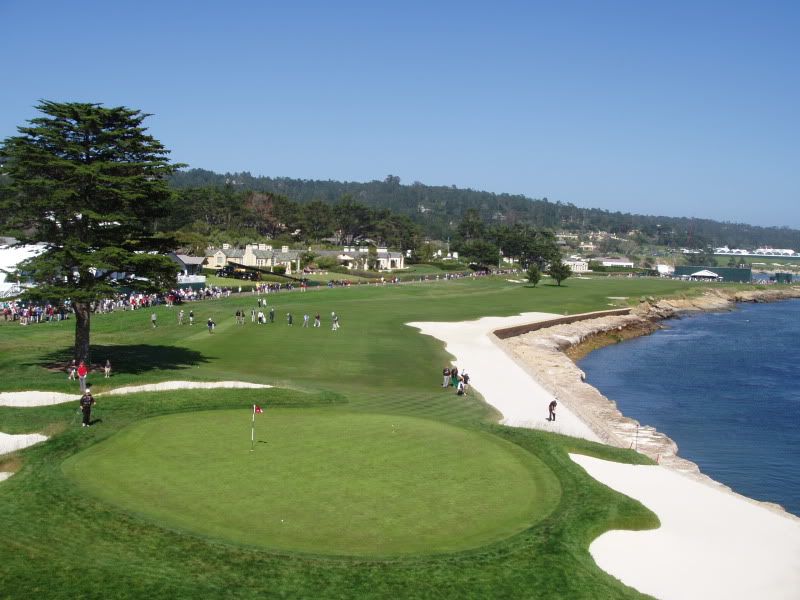 PEBBLE BEACH, CA – It's Graeme McDowell who won the 2010 U.S. Open, not Lou Graham, but since McDowell's win closely resembles Graham's victory at Medinah in 1975, the confusion is easily forgiven.
Like 1975, Championship Sunday dawned over Paradise with the game's greatest players lurking near the top of the leaderboard. But also like 1975, the back nine on Sunday saw an abysmal performance by the game's superstars. They inexplicably faltered in the clutch, usually their time to shine, and the stage was left to golfers who were expected to be bit players or extras in a drama in which others were cast as the leads.
Wow, did they ever steal the scenes.
Back in '75, it was Jack Nicklaus, Arnold Palmer, and Ben Crenshaw. This time it was Tiger Woods, Phil Mickelson, and Ernie Els, three of the so-called "Big Five," players who between them, have won 21 majors. They are not only larger-than-life stars, but household names.
On Saturday, Woods had matched Mickelson's 66 on Friday with one of his own, and after Ernie Els moved into contention with a 68, the tournament had finally found the electricity it had been lacking. Newcomer Dustin Johnson led equally unheralded McDowell by three shots and five over Woods, with Els and Mickelson right behind. But although Johnson seemingly owned Pebble Beach after two consecutive wins at the AT&T, Pebble Beach in February for the AT&T is not the same Pebble Beach in June for the U.S. Open, and Woods, Els, and Mickelson were lurking should all the unexploded double bogeys laying around the U.S. Open start treating Johnson and McDowell like Ricky Barnes or Gil Morgan.
So as our heads hit the pillow Saturday night, it looked as though our beloved Pebble Beach was going to give us yet another time capsule-worthy U.S. Open. What a theatre the golf course had become! Even normally even-keeled Golf Channel broadcaster Tim Rosaforte acknowledged that, "this has the potential to be an epic finish," and he was absolutely right.
As Sunday progressed, right on cue, Dustin Johnson tried to hand the Open to everyone, anyone, gift wrap and all. Johnson proceeded to hit golf balls to Spyglass Hill, Poppy Hills, Monterey Peninsula Shore Course, and Spanish Bay all in one round. He's lucky he didn't end up at Pasatiempo or Olympic Club. After an opening par, Johnson played a shot left-handed, nearly whiffed, stubbed a chip, lost a ball and carded a triple-double…and not the NBA kind of triple-double. He gave back six strokes to par in three holes. If I want to see that, I'll go play with my loudmouth, lunkhead golf buddies from Bethpage. The season's second major was lying on the ground, waiting for a champion to claim her.
But just like 1975, the back nine at Pebble saw two hours of some of the most deflating golf ever produced by a collection of icons at a major. Possibly affected by a plane flying overhead with the message, "Tiger: Are you my daddy," (referencing a new scandal involving children out-of-wedlock…obviously many people have still not forgiven him), Woods put on a worse driving exhibition than Thanksgiving night at Isleworth en route to bogeys at 1, 4, 6, 8, 10, and 12. Then blamed his caddie for bad advice. See why we haven't forgiven him?
Meanwhile, Phil got into too much trouble the whole day to make much of a charge, and Els double bogeyed 10, then bogeyed 11, 14, and 17 to fall out of contention. In fact, Woods, Mickelson, and Els played the burly stretch of 8, 9, and 10 a combined 10-over par. Moreover, they shot 37, 39, and 40 respectively on the back nine. The U.S. Open was right in their hands for the taking, and the best players in the world doddered around clumsily like a bunch of rubber-suited Scooby-Doo villains.
They would have gotten away with it too, if it weren't for those meddling Euros. The stage was left to Northern Ireland's McDowell, who refused to fold, and a bubbly French cabernet sauvignon named Greg Havret, our generation's Graham and Mahaffey. Even with a bogey at nine, McDowell entered the back nine with a three shot lead, but even he nearly gave it all back. He and Havret also went backwards on the inward nine, with 39 and 38 respectively. In fact, the entire field played the back nine to a bloated 38.73 stroke average during the week. By contrast, the front scores averaged 36.25, two and a half strokes easier.
Still, the plucky McDowell made fewer mistakes and had enough cushion when the day started to simply percolate down the scoreboard less than anyone else. Moreover, even though he's not a household name, McDowell has been lurking at the top of major leaderboards for some time, waiting patiently and working hard for his chance on Championship Sunday. Though his closing 74 is the highest final round by a U.S. Open winner since Andy North at Oakland Hills in 1985, and matches Jack Nicklaus's 74 to win at Pebble in 1972, McDowell was T-3 for the week in putting and T-12 in Greens in Regulation. Putting and Greens in Reg: that's the formula for winning the U.S. Open.
"I played in plenty of tournaments where I made the mistakes. I feel like I've served my apprenticeship a few times. I've been in positions going into a weekend at majors and not done the job," he admitted candidly. "But I worked hard and I felt my game improve as the years have gone on. I won in Wales and really felt like I was playing the golf of my life. And I felt very calm under the pressure this afternoon. I made some great swings on that back nine….I was happy to stay in the present out there this afternoon; and thankfully the Golfing Gods were looking down on me this afternoon."
The Golf Gods might indeed have been looking down, but their plan was still a mystery. Maybe they were eager to introduce us to a player who may write his future as a great champion, or maybe they were having a laugh, giving us an off-brand winner almost as unheralded as Michael Campbell.
Okay, maybe not as zany as Michael Campbell. Campbell did nothing before, and has done nothing since. Greg Havret winning would have been like Michael Campbell. Somehow, the Frenchman got lost on his way to the Sonoma vineyards and found himself in second place in the U.S. Open.
McDowell, on the other hand, has been steadily growing as a player since he turned pro. Even though his win at Pebble Beach is his first win on the PGA Tour, McDowell won recently in Wales and, moreover, places high on the leaderboard with relative consistency. He's even shown remarkable improvement each year in the U.S. Open, rising from T-80 in 2006 to T-48, T-30, and T-18 last year.
Still, his win was a surprise: to himself, his team, and the golf world.
"I can't believe I have 'major champion' after my name from now on," he beamed, cradling the trophy in his arms lovingly, like an infant, much like the famous picture of handicapped pro Ed Furgol from 1954, who won the U.S. Open at Baltusrol despite having a withered arm. "I think I've died and gone to Heaven for sure," McDowell continued. "This can't be really real. I don't think this will ever sink in. It's a very special feeling to pick this trophy up on the 18th green, one of the most special golf courses in the planet."
It's a surprise to be sure, but a welcome one. The elation, and celebration were heartwarming to watch. As we stood greenside, McDowell's father, agent, and friends fretted the final hole anxiously, pacing, white-knuckled, and grimacing at every shot. After he lagged his putt on 18, from our viewpoint it was difficult to see how much he had left for his putt to win the Open.
"Is it close enough?" someone asked nervously. "Is it a gimme?" There was a moment of confused buzzing, then the welcome words, "The caddie is taking the flag off the stick. It must be a gimme."
So as the final putt rolled in there were loud roars of "GMac!!!!!!!" and a mad rush to embrace him. In a scene that could have been written in either Hollywood or Belfast, father and son held each other on Father's Day, beaming bright, jubilant at the enormity of the moment.
"This is the greatest moment in his life. This changes everything. He's finally made it," said one of McDowell's friends and family as they held each other.
Then, long into the night, the celebration continued. In a nod to his fans, McDowell made an impromptu visit to Brophy's Irish pub in Carmel, along with his caddie, Ken Conboy, Lee Westwood's caddie, Billy Foster, and Padraig and Caroline Harrington, and various Irish golf writers and adopted Irish golf writers. As he entered, bells clanged joyously, fans roared, and flash bulbs exploded. The room rang with the cheering.
And in response, in his first public appearance as a major champion, McDowell was as grand a gracious as we could have wished. He posed for every picture, he chatted with fans genuine interest, he told stories, and yes, he and his friends sang those silly songs the Europeans love to sing. Gathered in a circle, arms entwined, and jumping up and down in unison, they sang:
We're on a hooooooooooooooooooooolidaaaaaaaaaaaaaaaaaaaaaay!
We're on a hooooooooooooooooooooolidaaaaaaaaaaaaaaaaaaaaaay!
It's a good thing he can play golf because I don't think Motown Records will come calling with a recording agreement. Nonetheless, as a golf champion, he seems likely to stand much taller than Lou Graham. Here are seven interesting things about our newly-minted U.S. Open Champion:
***He took up the game at age 8, playing with his brothers at Royal Portrush, the only course outside England or Scotland to host an Open Championship.
***He hit balls in the dark every day. "Play until you can't see the ball," was his mantra.
***All the practice paid off. As a kid, he and his friends used to have closest to the pin contests for burgers and sodas, but McDowell was so good, he'd have to play his shot from 50 yards behind everyone else. He still beat all comers.
***He studied mechanical engineering at the University of Alabama-Birmingham, but left to go on Tour before getting his degree.
***He won the Haskins Award for the best college player when he was at UAB. He authored a lower scoring average than Woods and Luke Donald.
***He bought his parents a house with the proceeds of his first professional tournament win.
***This U.S. Open victory was his fourth win as a pro. He did just win in Wales two weeks ago, breaking the curse that "no one who won his last pro golf tournament before the U.S. Open also won the U.S. Open."
And so the joyous, if off-key refrain echoed from the pub, past the hotels, and all the way to the beach, while the course was left to the mournful howl of the sea lions, the whip of the wind, the spray of the sea, and the whoosh and crash of the waves on the rocks. It was just another night in Paradise, with the little man from Northern Ireland standing as tall as the Giant's Causeway, his name forever identified with a tournament memory created in the same place as Nicklaus, Woods, and Watson, and during a week that saw a galaxy of star-studded sporting events, including the World Cup, Game 7 of the NBA Finals, and Wimbledon.
Slante, Graeme, bloody well done.
CHIP-SHOTS AND TAP-INS
***Nine years from now we will return to Pebble Beach, "Good Ol' Double Bogey-by-the-Sea" as Dan Jenkins calls her. She may be the shortest U.S. Open course on our unofficial rotation, (until we return to Merion in 2013), but she's still tougher than a Monster Truck. Not as hard as Winged Foot or Oakmont, to be certain, but when the pros are playing a 99-yard par-3 hole over par for the week – 7 played 3.06 for the tournament – and there wasn't even any wind, something is out of joint. In fact on Sunday – the day the hole went into history as the shortest U.S. Open hole in history, 92 yards – the pint-sized terror played 3.22 stroke average, the 11th hardest hole on the course…and that's with little to no wind.
***Moreover, the par-3 17 proved the hardest hole on the golf course, playing to a 3.49 stroke average. For the week, less than 20% of the field hit the green in regulation. That's a statistical outlier the likes of which we may never see again at any golf tournament for decades. 14 was equally troubling. With only about 40% of the world's greatest golfers able to hit it in three shots with a wedge in their hands, it played the hardest par-5 in 25 years.
***It was about an even-money bet that Dustin Johnson would either win, or fall off the leaderboard like Retief Goosen at Pinehurst in 2005. Like Johnson, Retief had a three-shot lead going into the final round and a seemingly bulletproof psyche. He was the Iron Goose, a Dockers wearing zombie. There was no way he'd crumble. The next thing we knew there were Goose feathers all over the front nine.
***As for Johnson, although he led the field in Greens in Regulation for three days, he only hit eight on Sunday.
***What was the tournament's defining moment? Missed putts, pained groans and polite golf claps.
***In a choice between listening to a six-hour concert of vuvuzelas, and listening to people assert that if Tiger Woods wins the 2010 U.S. Open from behind, it absolves him of all his gross societal sins, I'll take the vuvuzelas. At least they come with a free soccer game.
***McDowell in the first European player to win the U.S. Open since Tony Jacklin at Hazeltine National in 1970.
***On Saturday, the par-3 7th hole at Pebble played a mere 99 yards, tied with number 10 at Inwood C.C. in 1923 for the shortest hole in U.S. Open history. On Sunday, it claimed the record to itself, playing to a paltry 92 yards.
***Had he won, Greg Havret would have been the first French major golf champion since Arnaud Massy won the 1907 British open champ at Royal Liverpool.
[Author's Note: Special thanks to the Irish golf writers for both their hospitality and their late night telephone call to get me out and about Sunday night. Slante to you too.]