SAN FRANCISCO, CA – While out covering the U.S. Open two separate sources imparted to me the same information.
"Let me let you in a on a little secret Jay. Golf in California isn't all it's cracked up to be," they both asserted.
I see why they said that. They had just been disappointed yet again by two big ticket resorts that actually looked like other resorts they'd played before in many other places. Anything over two hundred dollars a round must be examined carefully for its value, California or anywhere else for that matter. Many courses or resorts are clearly over priced (Pebble Beach Resort, Pelican Hill). Still others aren't architecturally significant.
Another prominent sports broadcaster echoed his sentiments.
"Golf in California is frequently overpriced, underdesigned, over-rated, or some combination of the three. Per capita, California is not the greatest state for golf."
On occasion, they may all be right. We are clearly seeing Bandon Dunes surpass Pebble Beach resort for price and quality of golf, for example. But we are presently in what expert Ran Morrissett calls the Second Golden Age of Golf Course Architecture, (or what others call the Platinum Age, whichever you prefer), and it has reached California as well. Despite two rough injuries this week, a severely sprained thumb and a deeply bruised tail bone from getting knocked on my butt in a basketball game, I got some golf in. (Note to my basketball opponent: butt-ramming and shoulder-shoving are not acceptable basketball moves.)
So let's visit some great places to play golf in California, both public and private.
SoCal
Rustic Canyon Golf Club, Moorpark
Rustic comes with some serious credentials, not the least of which is Golf Magazine's label of "Best Golf Value in the U.S." It's a favorite of lookie-loos who like pretty natural settings, and it's wildly popular with the golf architecture crowd who like strategic thought-provoking golf. Finally, architect Gil Hanse is riding the crest of a high and wondrous wave of popularity right now, scoring every course building gig he wants. Most importantly, it really is a superb value.
Rustic lived up to the expectations and them some. I deliberately chose not to study it hole by hole before I got there so I could be pleasantly surprised at every turn, and that's exactly what happened. Wide fairways are often split by bunkers, dry washes, or grassy mounds. Greens are devilishly complicated to read, local knowledge and many rounds are the secret to scoring well.
My favorite stretch on the front is six-seven-eight, three terrific greens in a row with a double plateau at seven as the highlight. The back nine runs through more scenic portion of the property, and ends with a longer, more difficult stretch.
"You score on the first 13 holes, you hang on for dear life the rest of the way," explained my playing partner, a well-decorated amateur champion who uses Rustic as his practice ground. "I once was 4-under standing on 14 tee, then took four doubles coming home," he lamented. The 14th bit him again as his drive failed to clear the massive forced carry over a diagonally situated dry wash. Double, double…toil and trouble…
Still, Rustic was everything a public golfer could ask for – great design, arresting visuals, and a fair price. It's an excellent design in fact – with many options on almost every hole.
Just watch out for the bees, they are everywhere. And one more thing – since neither GPS or Mapquest or Google can get their address right, a few signs along the road wouldn't go amiss.
Ojai Valley Inn and Spa, Ojai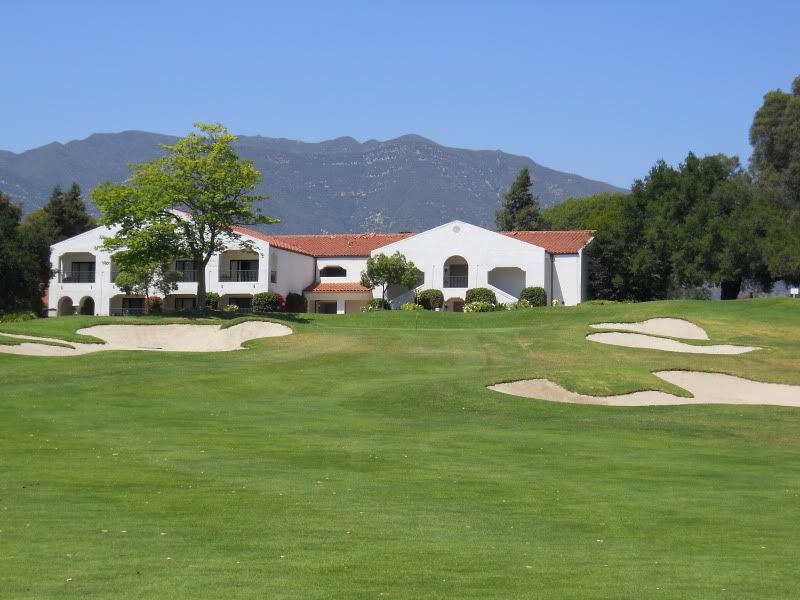 Ojai Valley may be a great resort, but it's merely an average golf course, (at least right now. A contemplated renovation may change that assessment dramatically). There is great history there and a majestic natural setting, but only pretty good golf as you find the course today.
The gorgeous Spanish mission-style resort, which has operated since 1923, sits serenely like a nest in a valley at the feet of the Topa Topa Mountains. ("Ojai" means "nest.") It underwent a 90 million dollar renovation in 2005, and in its history has hosted myriad A-list movie stars and presidents. It was a favorite of Ben Hogan and Jimmy Demeret, who was the touring pro who represented the course. It's also the first 18 hole course designed by George Thomas of Riviera fame.
The golf course is a mixed bag of really good holes, but a few head scratchers as well. The first hole is terrific – a par-4 which tumbles over severely undulating swales, before reaching a green benched into the side of a hill. It's a thrilling way to open the day and heralds an epic round.
But the next hole is architecturally awful – short par-4, 90-degree dog-leg you play with a 4-iron off the tee over a ravine filled with bushes, then you turn right and hit a 8-iron through a picture window-sized gap between trees over the same ravine. In fact, much of the front nine underwhelms. As an example, the short par-4 sixth hole, a well-bunkered masterpiece typical of excellent Thomas par-4s is a brilliant hole…except for the ridiculous tree with the overhanging branch rudely intruding upon the playing corridor. It completely ruins the golf hole.
"Thomas's best holes were short par-4s," stated Director of Golf Mark Greenslit, and he's 1,000 times right. Looking at the shape of the hole and the positioning of the bunkers, six could be a truly great golf hole: so cut the tree limb down and play it the way Thomas envisioned it – with options off the tee for everyone. Not everyone has a Bubba Watson-esque 50-yard, wicked hook in their arsenal. Five minutes with a chain saw is all that is needed to restore that hole to it's 1920's splendor.
The back is much stronger, especially the finish. 14 is a burly par-3 with excellent green contours. I love the majestic sweep of the par-5 15th as the course heads towards its picture window green and then a stirring climax in the canyon. 16 and 17 are indeed first class, even though the Jay Morrish bunkering clashes horribly with the excellent bunker style of the rest of the course, and 18 is as strong a finishing hole as any course could wish for.
At 180 USD in high season and 90 USD for replays it's a bit pricey, especially when factored into the stay and play packages which soar close to 500 USD per day. Thougnh I can't dsee them thriving at those prices for long if economic rimes continue to get worse, they have been for decades a staple of jet-setters and will be for the foreseeable future. I can't wait to see how much stronger the course will become if a truly great architect gets the commission for the redesign.
Congratulations, by the way, to Mark Greenslit on his 25th anniversary as Director of golf there. It certainly makes for a wonderful place to call home, doesn't it?
As an aside, don't ever try to drive from LA to SF (or vice-versa) by way of Ojai because you'll turn a seven our trip into nine-and-a-half. Route 152 between Ojai and Route 101 is one of the windiest, narrowest, and most dangerous roads in America. You would enjoy the scenic views – if you weren't in fear for your life of a semi- coming the other way to squash you like a bug on a windshield.